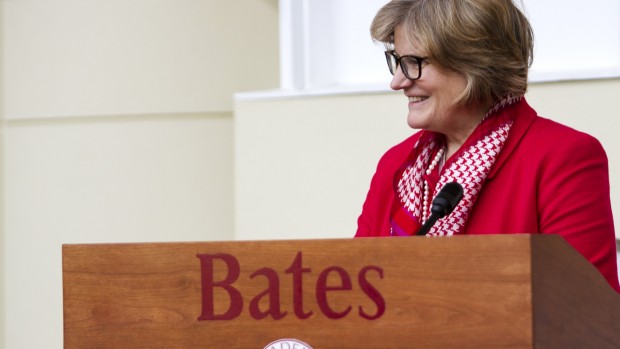 "We have ambitious goals for Bates, and I am inspired by this outpouring of support from the college community," said President Clayton Spencer.
Published on
Description

---

April 25, 2007
8:47 am

A plan by Bates College students to help support a home for street children in Rwanda won a $10,000 award from the 100 Projects for Peace program sponsored by noted philanthropist Kathryn Wasserman Davis.

April 20, 2007
9:03 am

Not so long ago, shyness was usually seen as a random character trait, sadness the natural reaction to misfortune and alcoholism a sign of personal weakness. In recent decades those conditions, and many others, have been "medicalized" — associated with biological causes and redefined as medical diagnoses, not merely products of personality or fate.

April 19, 2007
11:30 am

I know you are all aware of the shocking tragedy that occurred at Virginia Tech early in the week. While no words are adequate in a situation so sad and horrifying, I know you join me in expressing our sympathies for the friends and families of those whose lives were lost, and for all members of the Virginia Tech community as they grieve. Our thoughts also go out to members of our own community who have friends or family at Virginia Tech. Our primary concern must be with the victims, but at the same time such painful incidents may understandably cause us to reflect on our own safety.

April 16, 2007
11:55 am

Kevin McHugh of The College of New Jersey has been named director of athletics and chair of the Department of Physical Education at Bates College, effective July 1.

April 10, 2007
1:34 pm

Several years ago, students in Lee Abrahamsen's 300-level virology course undertook a project for a hepatitis-C support group at a local hospital.

April 10, 2007
8:44 am

Several years ago, students in Lee Abrahamsen's 300-level virology course undertook a project for a hepatitis-C support group at a…

April 6, 2007
12:03 pm

Between the mud, the plastic wrap and the concrete, the colors of construction work are predominantly drab. But the rare "colorful" colors, as major projects building at Bates this year have shown, can be surprisingly bold.

April 5, 2007
12:12 pm

In celebration of his four-year appointment as the Christian A. Johnson Professor of Interdisciplinary Studies at Bates College, historian Michael Jones delivers his inaugural lecture, "Famine, Metahistory, and Interdisciplinarity."

April 4, 2007
12:25 pm

Four honorary degree recipients will speak at Bates College's 141st commencement, on May 27. The honorands are children's book author Eric Carle, singer-songwriter Corey Harris '91, inventor-entrepreneur Dean Kamen and actor and author Anna Deavere Smith.

April 3, 2007
12:41 pm

Hundreds of Bates people and members of the local community flooded Pettengill Hall as the College mounted its sixth annual Mount David Summit on March 30.