Celebration Barn, Italian actor to present commedia dell'arte program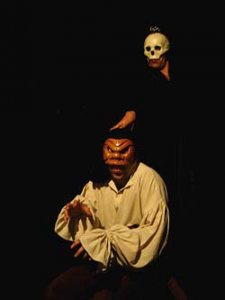 An Italian actor expert in the influential stage genre called "commedia dell'arte" presents a workshop on the topic at Bates College at 7:30 p.m. Tuesday, April 3, in the Plavin Dance Studio, Merrill Gymnasium, 141 Russell Street.
Presented by the Bates theater department and the Celebration Barn, the nationally known school of stage comedy and acting in South Paris, the workshop is open to the public at no cost.
For more information about the performer or workshop, please call the Celebration Barn at 207-743-8452. For Bates information, call the college concierge at 207-786-6255.
"Commedia dell'Arte — A Tradition of Playing Now!" is the title of the interactive workshop by actor Fabrizio Paladin. Loosely translated as "theater by professionals," commedia dell'arte was popular in Italy from the 15th through the 18th centuries. The genre used stock characters, situations and themes as the basis for largely improvised action and dialogue — often satirical and derived from contemporary events.
The style's influence is widely apparent, from certain plays of Shakespeare to mime, from the rock band Queen to the current TV series Studio 60 on the Sunset Strip, whose fictitious late-night comedy show has a running commedia dell'arte sketch.
Paladin is spending three months with the Celebration Barn, taking the workshop and an original commedia dell'arte play, O'Spettacolo! The Exhausting Affairs of Love, around the region. The workshop uses performance, lecture and audience participation to present commedia as a fresh way to approach character, comedy and the art of improvisation.
Paladin conceived and directs O'Spettacolo! ("What a Show!"), which he performs with Celebration Barn executive director Amanda Huotari. Often masked, the two represent 10 different characters. In classic commedia dell'arte style, the piece is full of love, death, wild fights and magic potions. The show premiered in Portugal in 2006 to rave reviews and is making its American debut with the Celebration Barn.
Paladin is an award-winning actor, playwright and musician from the town of Treviso, near Venice. He holds a graduate degree from the University of Bologna in literature and philosophy. He has produced and performed his work in Portugal, Austria and Germany, as well as Italy and the United States.
Paladin will publish a book about commedia, the dramatic use of masks and improvisation in 2007.
Located in South Paris, Maine, Celebration Barn Theater is an international school dedicated to the creation of original physical theater. Founded in 1972 by the late actor and mime Tony Montanaro, and known around the world for the quality and innovation of its performances and educational programming, the Celebration Barn has nurtured countless actors, dancers, mimes, jugglers and storytellers.
View Comments