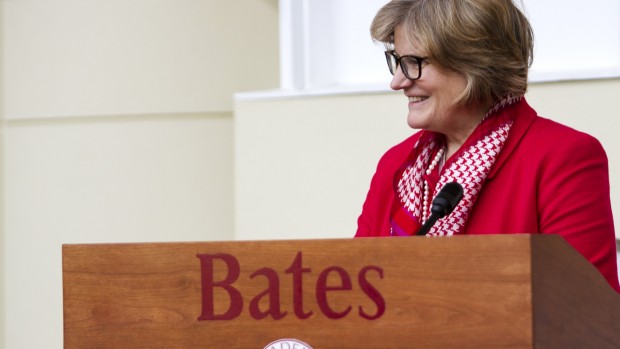 "We have ambitious goals for Bates, and I am inspired by this outpouring of support from the college community," said President Clayton Spencer.
Published on
Description

---

April 3, 2007
12:35 pm

An Italian actor expert in the influential stage genre called "commedia dell'arte" presents a workshop on the topic at Bates College at 7:30 p.m. Tuesday, April 3, in the Plavin Dance Studio, Merrill Gymnasium, 141 Russell Street.

April 2, 2007
1:16 pm

Twenty-four Bates College students and two chaperones head to Biloxi, Miss., April 15-20 for an "Alternative Spring Break" as Hands on Gulf Coast volunteers in a hurricane-ravaged community.

April 2, 2007
1:07 pm

Bates College is one of 11 institutions of higher education named by the National Community-Based Research Networking Initiative to receive funding for innovative community-based research projects.

April 2, 2007
1:00 pm

Khoa Pham, a Bates College senior from Ho Chi Minh City, Vietnam, has received one of 50 prestigious research fellowships awarded by the Thomas J. Watson Fellowship Program.