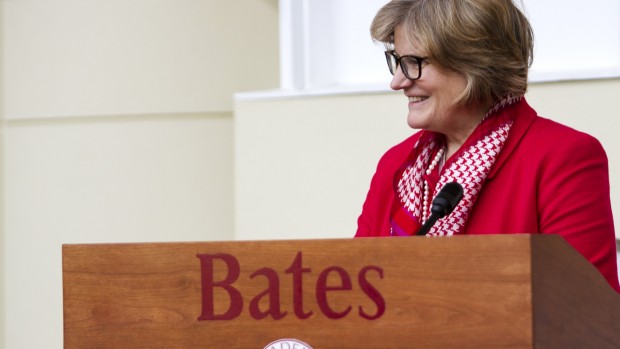 "We have ambitious goals for Bates, and I am inspired by this outpouring of support from the college community," said President Clayton Spencer.
Published on
Description

---

August 31, 2007
8:39 am

On Friday, Aug. 31, construction crews rushed to get much of Alumni Walk ready for traffic as students returned in force. The short-term objective is to open the walk from College Street as far east as Pettengill Hall. The entire walk won't be finished for weeks, and even in the section soon to open, landscaping chores, the placement of benches and lights, and similar work will continue.

August 30, 2007
11:11 am

Bates College opens its 153rd academic year with a convocation ceremony featuring John R. Cole, Thomas Hedley Reynolds Professor of History, at 4:10 p.m. Wednesday, Sept. 5, on the historic Quad near Campus Avenue.

August 30, 2007
10:48 am

Even as workers were whacking down and pulling up the green shag carpet of Alumni Walk weeds, Susan Hayward joined Campus Construction Update at the site on Aug. 27 to identify the plants that had volunteered so eagerly this summer.

August 28, 2007
11:20 am

Annual Entering Student Outdoor Program (AESOP) sends small groups of students hiking, camping, climbing, kayaking and canoeing across northern New England with the aim of helping the newbies make personal connections before classes start. This year's 80 leaders, working in pairs, will bring more than 250 first-years to destinations from Isle au Haut to Baxter State Park to Vermont's Long Trail.

August 17, 2007
8:57 am

With its first occupants scheduled to move in later in the day, the new Bates student housing was introduced to the community with speeches and tours during the morning of Aug. 17.

August 10, 2007
8:59 am

Museum L-A, an institution presenting the story of work and community in Lewiston-Auburn, opens the exhibition Portraits and Voices: Workers of Seven Mills at 5 p.m. Saturday, Aug. 11, in the Bates Mill Complex.

August 9, 2007
9:22 am

Students at Bates College this summer explored crime-scene chemistry and cultural diversity in mathematics through a program designed to make math and science more inviting to groups underrepresented in those fields. Eleven members of the class of 2011 were chosen to be Hughes Summer Scholars.

August 9, 2007
9:07 am

Popular Maine singer-songwriter Anni Clark performs in the 2007 Bates College Midsummer Lakeside Concert Series Thursday, Aug. 2, in the Florence Keigwin Amphitheater, by the college's Lake Andrews.

August 8, 2007
9:14 am

The papers of a Bates College professor who spent decades studying pollution in the Androscoggin River — pollution that prompted the federal Clean Water Act of 1972 — are newly accessible to researchers.

August 6, 2007
9:30 am

Celebrating the Bates Dance Festival's commitment to producing innovative outdoor events, PearsonWidrig DanceTheater returns to Maine this summer to create another magical site-specific performance installation, this time on and around Lake Andrews on the Bates College campus.