College Dance Festival presents 'Different Voices' concert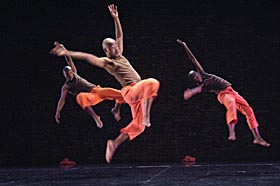 Showcasing the internationalism of contemporary dance, visiting choreographers from the United States, Africa and Latin America bring compelling styles and perspectives to the Bates Dance Festival stage with the annual Different Voices concert at 8 p.m. Thursday, Aug. 2, in Schaeffer Theatre, 305 College St. Tickets are $18/$12 (students and seniors) and may be purchased by calling 207-786-6161.
Choreographer, Claudia Lavista and dancer Omar Gibran, of Mexico's acclaimed contemporary company Delfos perform their beautiful duet, I was Thinking. The San Francisco-based duo Kathleen Hermesdorf and Albert Mathias perform their latest work, Fractal.
Mexican dancers Adriana Arana and Alejandro Avalos, from the University of Colima's highly acclaimed folkloric dance company, present a duet set to contemporary Mexican music. South African choreographer Lucky Kele, who made his U.S. debut at the 2006 Bates Dance Festival, returns to share another riveting solo. Seattle-based emerging choreographer Amy O'Neal, recent recipient of a coveted Creative Capital award, and company member Ellie Sandstrom, of locust, perform excerpts from their latest work, Mockumentary.
In addition to main stage performances, the festival offers a selection of free and low-cost events. Complete information is available at the website.
View Comments