A look at famed mother and daughter opens Bates' 153rd academic year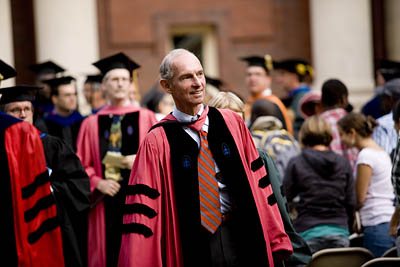 Bates College opens its 153rd academic year with a convocation ceremony featuring John R. Cole, Thomas Hedley Reynolds Professor of History, at 4:10 p.m. Wednesday, Sept. 5, on the historic Quad near Campus Avenue.
Cole, of New Gloucester, has served on the Bates faculty for 40 years and since 1992 has held the Reynolds professorship, named after a past president of the college. Cole's talk is titled Dress Right, Stand Right, Play Right, Ride Right, Write Right . . .
Also speaking at the ceremony are Elaine Tuttle Hansen, president of Bates; William Jack, a senior who is president of the Bates College Student Government; and the Rev. William Blaine-Wallace, multifaith chaplain. For more information, please call 207-786-6255.
The subject of his convocation address "is parent-child exhortation at the point of children leaving the parental home on the threshold of independent lives as young adults," explains Cole, himself a father of four. "I pay particular attention to one parent-child set, the Habsburg Empress Maria Theresa and her daughter, Marie Antoinette, sent off to France to marry the future Louis XVI."
With a focus on the history of democratic ideas, Cole teaches courses about ancient Greece, France in the 17th and 18th centuries, and 18th-century English feminist Mary Wollstonecraft.
Cole's publications include a 1995 biography of 17th-century French mathematician and philosopher Blaise Pascal. Pascal: The Man and His Two Loves (New York University Press) examines Pascal's scientific and religious insights in a way that reintegrates the seemingly disparate aspects of his life into a clear, coherent portrait.
Cole also wrote The Olympian Dream and Youthful Rebellion of Rene Descartes (University of Illinois Press, 1992), which analyzes a famous series of dreams the mathematician experienced. The resulting work is a systematic interpretation of their effect on Descartes' later career.
Cole, who holds a Ph.D. from Harvard and a bachelor of arts degree from Haverford, is a staunch advocate for small, liberal-arts colleges and the close student-faculty connections they make possible.
"I learned much more and more happily at little Haverford than at great Harvard, and I have gone on to learn much more and more happily while teaching at Bates," he says.
Convocation day at Bates, Sept. 5 also marks the start of classes. Although the final numbers are subject to change, some 1,660 students are expected on campus this fall and 193 will be attending Bates-sponsored programs off campus. New to Bates are 445 first-year students and 15 transfer students, drawn from a record 4,650 applications.
Seventeen percent of the new arrivals are U.S. students from underrepresented minority groups, 6 percent are international students and 4 percent are citizens of both the United States and another country. First-generation-to-college students make up 10 percent of the entering class.
New students have residences in 39 states and 30 foreign countries, from Bangladesh to Zimbabwe. Half of the members of the entering class reside outside of New England. Nine percent of the new arrivals, and 10 percent of all actively enrolled Bates students, are from Maine.
View Comments