Bates rolls out a fleet of bicycles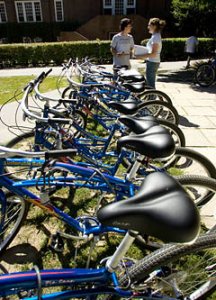 This fall Bates College introduces the Bates Bikes, a fleet of 10 cruiser bicycles that belong to the newly created Bates Bike Co-op.  Students, faculty and staff can join the co-op for a $10-fee and use the bikes for short trips on and off campus, says Julie Rosenbach, the college's environmental coordinator.
Membership in the co-op gives an individual a key to the locks that secure the bikes and the freedom to use the bikes on campus and in the greater Lewiston-Auburn area. Individual users taking good care of the bicycles will promote the program's sustainability, Rosenbach says. "If the program is successful this year and we see the need, we will expand it."
Rules and regulations for the bikes include the following:
• Bikes must be properly secured and locked to a bike rack when not in use.
• Riders taking bikes off campus must return the bike to a campus rack upon completion of their adventure.
• Riders must abide by all Maine state and Bates College rules for bicycles.
• Riders are strongly encouraged to wear helmets.
• Bikes will be available through the Thanksgiving recess and will be returned from storage in April.
In addition to the newly instituted Bates Bike and Zipcar programs, says Rosenbach, "the college will also be exploring policy changes such as developing an intercollegiate ride board for carpools, offering on-campus vacation alternatives and offering subsidies for public transportation."
Leave a Reply
This is a forum for sharing your thoughts about the preceding post with the public. If you have a question for the author, please email the Bates Communications Office at communications@bates.edu.