Bates Concert Series opens with pianist Inon Barnatan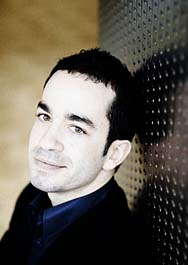 Inon Barnatan, an exciting young pianist described by a London Evening Standard critic as "refined, searching and unfailingly communicative," opens the 2007-08 Bates College Concert Series with a performance at 8 p.m. Saturday, Oct. 13, in the Olin Arts Center Concert Hall, 75 Russell St.
Admission is $10 for the general public and $3 for students. For reservations or more information, please contact 207-786-6135 or this olinarts@bates.edu. The arts center is located at 75 Russell St.
Barnatan will play sonatas by Haydn, Barber and Schubert. A Dallas Morning News reviewer wrote of Barnatan, "This young Israeli, only 27, has had some great teachers and won some important prizes — who hasn't these days? But he really might be on the level of [iconic pianists] Artur Schnabel or Leon Fleisher."
Despite his youth, Barnatan has built a flourishing reputation through orchestral, recital and chamber performances worldwide. He is praised for his poetic and passionate playing and his thoughtful programming. Recent seasons have brought him to Carnegie Hall, Lincoln Center's Alice Tully Hall, Vienna's Musikverein and the Arts Theatre in Shanghai.
His debut CD, a Schubert collection for Bridge Records, was released in June 2006 to great critical applause. Also in 2006, Barnatan devised a project of compositions from Schubert's last year of life that he will present this season with the Amsterdam Concertgebouw and guest artists.
Born in Tel Aviv in 1979, Barnatan started piano at age 4 and made his orchestral debut at 11. He resides in New York City.
The Bates Concert Series continues on Friday, Dec. 7, with Gamelan Galak Tika, a Boston-area ensemble performing the gamelan music of Bali, Indonesia; and resumes in 2008 with acclaimed opera singers Kelly Kaduce, soprano, and Lee Gregory, baritone, on Saturday, Feb. 9, and the popular American roots band The Holmes Brothers at on Saturday, March 1.
All the performances take place at 8 p.m. in the Olin Arts Center Concert Hall. Except for The Holmes Brothers, admission for each program is $10 for adults and $3 for students. Holmes Brothers admission is $15/$5. For reservations and more information, please call 207-786-6135 or visit the Web site.
View Comments