Pianist Frank Glazer joins Bates College Orchestra for Bach concerto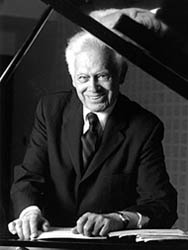 Frank Glazer, one of Maine's best-known pianists, joins the Bates College Orchestra for the performance of a concerto by J.S. Bach at 8 p.m. Saturday, Nov. 10, in the Olin Arts Center Concert Hall, 75 Russell St.
The concert is open to the public at no cost, but tickets are required. For tickets or more information, please call 207-786-6135 or e-mail the box office.
Hiroya Miura, a composer and member of the Bates music faculty, directs the college orchestra.
The D minor concerto is one of Bach's most frequently performed works, and one whose themes also turn up in other Bach compositions. Also on the program is Beethoven's monumental Symphony No. 5 in C minor, Op. 67, known for its distinctive, dramatic four-note opening motif.
Ninety-two-year-old Frank Glazer, a pianist of international renown, has taught at Bates since 1980. A Topsham resident, Glazer brings to the concert stage a highly distinguished career that includes numerous recordings, solo recitals and performances with orchestras and chamber ensembles, including the New England Piano Quartette, of which he was a founder.
In October 2006, Glazer celebrated the 70th anniversary of his 1936 New York City debut by performing that debut program at Bates.
Miura, a native of Sendai, Japan, has been active as a composer and conductor in Canada and the United States. In addition to conducting the orchestra, he teaches composition and music theory at Bates.
View Comments