Bates debates Yale, hosts national parliamentary debate tournament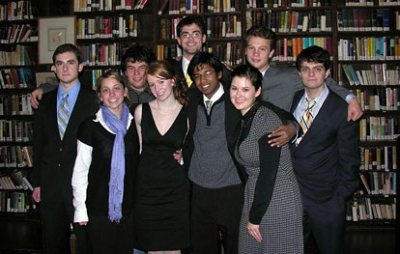 The Brooks Quimby Debate Council hosts an American Parliamentary Debate Association Tournament at Bates College, Jan. 18 and 19.
As tournament host, the Bates team won't debate in this competition. To keep the squad on its toes, however, Bates team members will debate the Yale University team on the issue, "This House believes that the United States should implement a system of issuing warrants for the torture of terrorist suspects."
Open to the public free of charge, the rhetorical match begins at 8 p.m. Thursday, Jan. 17, in the Bates College Chapel, College Street. Audience members are encouraged to participate with cheers, jeers, questions, comments and floor speeches.
The Yale squad is currently the top debating team in the United States, says Bates debater Ariela Silberstein, a sophomore from New York City. She promises that the match will offer an opportunity to watch "two of the best debate teams in the country compete." Coached by interim director of debate Andrea Curtis, Bates debaters are Brendan Jarboe '08, Matthew Marienthal '10 and Daniel Berman '08. Debating for Yale are Andrew Rohrbach '09, Grant May '10 and Habib Moody '10.
The Bates vs. Yale match precedes the debate tournament. Competing teams from approximately 15 different colleges and universities, including Yale, Williams and Stanford, take part in opening activities at 4:30 p.m. Friday, Jan. 18, in Schaeffer Theatre, 305 College St.
After competing in five preliminary rounds on Friday and Saturday, Jan. 19, debaters breaking into the final rounds will face off on Saturday. The final round, open to the public at no charge, will begin at about 4:30 p.m. in a location to be announced, followed by an awards ceremony.
The Bates College debate team ranks fourth in the United States, according to the compiled results of all U.S. collegiate debate teams who competed in the 2008 World Universities Debating Championships, held in Bangkok, Thailand.
View Comments