Award-winning fiction writer Michael Hyde reads at Bates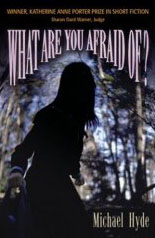 Michael Hyde, winner of the 2005 Katherine Anne Porter Prize in Short Fiction for his short story collection What Are You Afraid Of? (University of North Texas Press, 2005), reads from his work at 7:30 p.m. Wednesday, Feb. 6, in Skelton Lounge, Chase Hall, 53 Campus Ave., Bates College. The public is invited to attend his presentation, sponsored by the Department of English, free of charge."Katherine Anne Porter would be thrilled that Michael Hyde is winning an award in her name," said novelist Mary Gordon, author of Pearl and Final Payments. "His work is marked by the precision of language she so prized, and his forebears are writers she nurtured and cherished. This collection is strong, original and precious."
Powerful and haunting, the 10 stories of Hyde's debut imagine a world where dreams and reality merge, often with dangerous consequences. Hyde explores the relationships between illusion and reality, delusion and clarity, as his characters come to realize that the revelations they wholeheartedly pursue are often not the ones that await them and will move them. A teenage girl obsessed with the death of a classmate hopes to become the killer's next victim, a wayward graveyard attendant punishes the dead for his punishments in life and a ghostly vision in a garden shed offers a catalyst for one woman's change.
Born in Pennsylvania, Hyde received his B.A. from the University of Pennsylvania and his M.F.A. from the writing program at Columbia University. His short fiction has appeared in Ontario Review, Bloom, Xconnect, Mars Hill Review, New Millennium Writings and The Best American Mystery Stories. He lives in New York City where he teaches writing and literature at the Fashion Institute of Technology. He recently completed a novel.
Leave a Reply
This is a forum for sharing your thoughts about the preceding post with the public. If you have a question for the author, please email the Bates Communications Office at communications@bates.edu.