Bates opens state-of-the art dining facility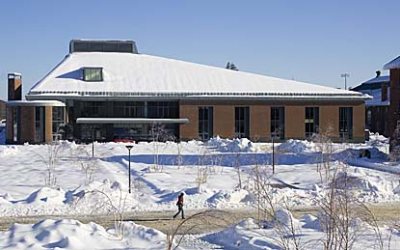 After nearly 17 months of construction, Bates College opens its new dining facility on Sunday, Feb. 24.
The new dining Commons was designed by Sasaki Associates of Watertown, Mass. The facility provides a visually striking, environmentally friendly new home for Bates' long and cherished tradition of gathering the campus community under one roof for meals.
---
See a
fact sheet about the new Commons,
and the final [intlink id="11440″ type="post"]Campus Construction Update[/intlink].
---
"Commons is the place on campus where all students come together face to face as members of one community," Bates President Elaine Tuttle Hansen said at the [intlink id="11445″ type="post"]groundbreaking[/intlink] for the facility in October 2006. "Commons facilitates important learning by providing students with a vital, informal forum to express themselves."
Located at 136 Central Ave., between the Garcelon Field grandstand and Alumni Gymnasium, the 60,000-square-foot Commons occupies the second-largest "footprint" on campus, after nearby Merrill Gymnasium. The general contractor for the project was Consigli Construction of Portland.
The facility can serve nearly 4,000 meals a day. Its several dining areas seat a total of about 950, an increase of 325 over the previous dining rooms in Chase Hall. The main dining area accommodates nearly 550 and is capped by an attractive ceiling, made of wood recycled from a demolished factory, that soars to 64 feet at its peak. For quieter dining, 220 seats in the mezzanine overlook the main floor.
Construction of the facility was part of a $30 million project that also included utilities upgrades and the creation of the Alumni Walk, an attractively landscaped cross-campus corridor.
In a departure from conventional cafeteria dining, the facility's marketplace-style "servery" allows diners to select from a variety of stations where food is prepared as they watch. Menu choices range from vegan-vegetarian to brick-oven pizza to comfort foods served at the innovative "Euro-Station." This approach simplifies traffic flow during busy mealtimes and also shows diners exactly how their food is being handled.
The Commons boasts myriad environmentally friendly features. Ample access to daylight and occupancy sensors that control room lighting help control energy consumption. "Dual-flush" toilets can reduce water for flushing by two-thirds.
Recycled and certified-green building materials were used in the structure's construction, and its design facilitates recycling of a variety of materials during the everyday use of the building. The building's summer ventilation is primarily natural — air is cooled mechanically only in the hottest parts of the kitchen.
In addition to its primary purpose of feeding the Bates campus, the new facility sports attractive social and meeting spaces. Named for Milt Lindholm, a former admissions dean and a member of the Bates class of 1935, "Milt's" is a campus store offering sundries, snacks and light meals for students burning the midnight oil.
A "flex dining" area opposite Milt's serves as part of the main dining area during regular mealtimes and as open seating in the off hours. Sliding glass walls are used to direct access to the space. Its cozy booth seating features upholstery patterns by noted Portland designer Angela Adams.
A gorgeous circular lounge that has a second-story balcony and a granite-sheathed, gas-fueled fireplace provides an attractive place for studying, chatting and enjoying performances and art exhibits.
Meeting rooms on the second floor, including a suite facing the newly landscaped campus area called Alumni Walk, boast beautiful views of campus and are equipped with state-of-the-art audiovisual technology.
Especially in its roofline and brick exterior, the new Commons bears a marked family resemblance to other Bates structures. But the Commons introduces attractive new accents to the traditional Bates palette of brick walls and white trim: gray zinc, dark-gray granite and black slate provide striking complements to the brick walls and abundant window glass.
The granite accents continue on the interior, but contrast there with extensive pale maple veneers on walls and trim, and glowing western hemlock on the ceilings.
– Office of Communications and Media Relations
View Comments