Poetry reading inaugurates John Tagliabue Poetry Fund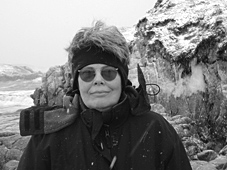 Award-winning poets Pamela Alexander '70 and X. J. Kennedy P'86 and '94 read from their work in celebration of the inauguration of the John Tagliabue Poetry Fund at 3 p.m. Sunday, May 4, in the Edmund S. Muskie Archives, 70 Campus Ave., Bates College. A book signing and reception will immediately follow the reading, and the public is invited to attend at no charge.
Associate Professor of Creative Writing at Oberlin College, Alexander is the author of four collections of poetry, most recently Slow Fire (Ausable, 2007). Her other books are Inland (1997), which won an Iowa Poetry Prize; Commonwealth of Wings (Wesleyan, 1991); and Navigable Waterways (1984), which won a Yale Younger Poet award. Alexander has received two fellowships from the Fine Arts Work Center in Massachusetts, as well as fellowships from the Bunting Institute of Radcliffe College and the Ohio Arts Council.
Her work has appeared in numerous anthologies, including American Alphabets, Best American Poetry 2000, The Extraordinary Tide, American Voices, Poetry for a Small Planet and Cape Discovery, and in many periodicals, including the New Yorker, Atlantic Monthly, Boston Book Review, Orion, TriQuarterly, Poetry, The Journal, New Republic and American Scholar.
Some of Alexander's poems have been included in an audio-anthology on CD; others were set to music for a public performance, broadcast as part of a satellite radio program and featured on the websites of National Public Radio and the American Academy of Poets.
A critically acclaimed author of adult and children's poetry, Kennedy has taught English at the University of Michigan, the Woman's College of the University of North Carolina (now UNC Greensboro) and from 1963 through 1978 at Tufts, with visiting sojourns at Wellesley, University of California Irvine and the University of Leeds. In 1978, he became a free-lance writer.
Recognition of his writing includes the Lamont Award of the Academy of American Poets (for his first book, Nude Descending a Staircase, in 1961), the Los Angeles Book Award for poetry (for Cross Ties: Selected Poems, 1985), the Aiken-Taylor Award for Modern American Poetry (given by the University of the South and The Sewanee Review), Guggenheim and National Arts Council fellowships, the first Michael Braude Award for light verse (given by the American Academy & Institute of Arts & Letters to a poet of any nation), the Shelley Memorial Award, the Golden Rose of the New England Poetry Club, the National Council of Teachers of English Year 2000 Award for Excellence in Children's Poetry and in 2004 the Poets' Prize (for The Lords of Misrule: Poems 1992-2002).

Kennedy received his undergraduate degree from Seton Hall and a Master's degree from Columbia University. He followed his formal education with four years in the Navy as an enlisted journalist, serving aboard destroyers. He studied at the Sorbonne in 1955-56, then devoted the next six years, he says,  "to failing to complete a Ph.D. at the University of Michigan." He and his wife, Dorothy, live in Lexington, Mass.
John Tagliabue taught literature at Bates from 1953 until his retirement in 1989, and was a prolific and imaginative poet. During his decades on the Bates faculty, he gave readings himself, brought to campus many of the leading poetic voices of the 20th century, and was a friend to poets and creative artists around the world.
Funding for the John Tagliabue Poetry Fund was given by family members, friends, former students and colleagues to honor the service to the Bates community of John and his wife, Grace Tagliabue.Established in 2006, the fund supports poetry at Bates by bringing poets to campus for readings and other creative work, for residencies and teaching by poets and by offering support to students and faculty involved in the composition of poetry.
View Comments