Capping a strong year, Bates debaters shine at nationals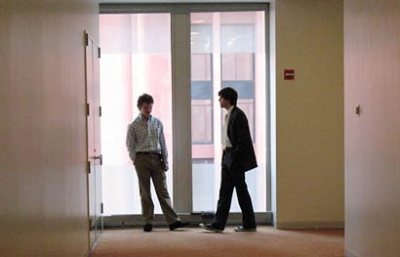 The Brooks Quimby Debate Council recently sent six Bates College debaters to the American Parliamentary Debate Association's national tournament at MIT, where teammates Brendan Jarboe '08 of Acton, Mass., and Matt Marienthal '10 of Chicago advanced to the tournament's octofinals. As a result of their outstanding 5-1 MIT performance, the duo is currently ranked 11th best in the country. In addition, Jarboe placed as the nation's 15th-best varsity speaker.
Also representing Bates at nationals were the teams of Rachel Kurzius '10 of Ridgewood, N.J., and Danny Bousquet '09 of Savannah, Ga., and Daniel Berman '08 of Winchester, Mass., and Geoff Shaughnessy '09 of Hanover, N.H. Teams compete at Nationals by invitation only, and qualifications are based on tournament performances throughout the season.
"This has been a landmark year for the Brooks Quimby institution," says Ariela Silberstein '10 of New York City, the team's publicity director. "We have met with enormous success both domestically and on the international scene, and have added a host of talented new members to our ranks."
Bates debating highlights from the 2007-08 academic year include senior Dan Berman's ranking as fifth-best extemporaneous speaker in the world at the 2008 World Debating Championships in Bangkok, Thailand; novice team Peter Gault '11 and Nate Sweet '11's first place in the novice division of Dartmouth University's debate tournament; and Jarboe and Marienthal's first place in the Stanford University debate tournament.
In addition to their strong 2007-08 performances, Bates debaters hosted several high-profile public events, including the college's annual Martin Luther King Jr. debate with students from Morehouse College; the "Big Read" debate, focused on censorship and First Amendment rights, in collaboration with the Lewiston and Auburn public libraries; and a public debate with students from Yale University on the topic of the torture of terrorist suspects. Brooks Quimby also hosted an in-house novice tournament as well as an American Parliamentary Debate Association tournament that brought dozens of teams to the Bates campus.
View Comments