Rwandan filmmaker to present work about his family, 1994 genocide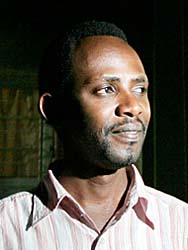 Bates commemorates the 14th anniversary of the genocide in Rwanda with a screening of a new documentary film by genocide survivor Gilbert Ndahayo at 7 p.m. Wednesday, May 14, in Chase Hall Lounge, 56 Campus Ave.
The event is open to the public at no cost. For more information, please contact Assistant Professor of French Alexandre Dauge-Roth, the event's organizer, at 207-786-6281 or this adaugero@bates.edu.
Ndahayo's film Behind This Convent explores both the efforts of genocide survivors to find the remains of their loved ones and the implementation of justice in post-genocide Rwanda. A question-and-answer session with Ndahayo follows the screening. The Rev. Bill Blaine-Wallace, Bates' multifaith chaplain, and members of the organization Bates Students for Peace in Rwanda will also take part in the event.
Ndahayo, a director and actor, recently completed the hourlong Behind This Convent, which documents his quest to learn how his parents died during the 1994 Rwandan genocide. He was only 13 years old when his parents, his young sister and some 200 others were murdered in his home garden during the genocide, in which up to a million Tutsi and moderate Hutu were massacred by Hutu extremists.
The film examines the process of justice and reconciliation that still continues in Rwanda more than a decade after the genocide. "I do not want to make a mistake about how I entered into the cinematic world," Ndahayo told the Rwandan newspaper New Times in February. "Genocide took place in my country and this has created me as I am now."
He said, "My film career is partly to explore the horizons of storytelling as well as the power of healing that only a filmmaker can discover."
"Ndahayo provides a unique perspective," says Dauge-Roth, who invited the Rwandan to participate in the latest of a series of Bates events related to the tragedy. In his filmmaking, Ndahayo has had to bring objectivity to a profoundly personal and traumatic event.
"He can speak as both a survivor and a documentary maker who has thought critically about the challenges in conveying this story, especially as he meets the people who killed his family."
Ndahayo's filmmaking career began with a 2005 training program. Since then he has directed, produced and acted in a variety of topical film projects including Scars of Silver, My Graduation Day and his first film, the autobiographical Scars of My Days, which was presented at the 2007 Tribeca Film Festival to an audience that included former President Bill Clinton and Rwandan President Paul Kagame.
In residency at Bates May 14-16, during Bates' five-week Short Term, Ndahayo will also speak to students in Dauge-Roth's course "Social Pulse, Documentary Impulse."
"He will discuss the difficulty of making a documentary about a past event for which there is pretty much no filmed archive available," Dauge-Roth explains. "Also, he'll discuss how he chose to construct a cinematic representation about the process of national reconciliation in today's Rwanda — a theme far less documented than the genocide itself."
Leave a Reply
This is a forum for sharing your thoughts about the preceding post with the public. If you have a question for the author, please email the Bates Communications Office at communications@bates.edu.