Bates riders find 'vanpool' good and green, in more ways than one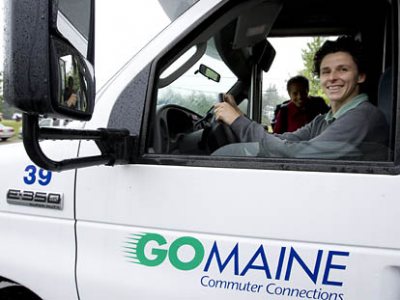 Commuters aren't usually encouraged to tool along with eyes closed, ears filled with Sinatra or The Dresden Dolls, and both hands off the wheel.
But some 200 lucky Mainers can commute that way safely if they wish — and help out the planet at the same time.
I'm one of them. A Portland resident and a Bates College employee, in late April I joined GO MAINE's Van 39, a state "vanpool" that carries 11 of us to Lewiston and back every workday.
It's the newest and 17th such vanpool — something in between a bus route and a carpool — operated by GO MAINE. GO MAINE is a commuter services program managed by the Greater Portland Council of Governments and funded by the Maine Department of Transportation and the Maine Turnpike Authority.
While fuel costs and concerns about climate change continue to rise, our new Ford minibus saves us money and helps relieve carbon-footprint guilt. And as Bates ramps up its "green" initiatives, the vanpool advances the school's institutional goals, too, says Julie Rosenbach, the college's environmental coordinator and a member of Van 39.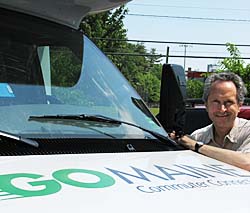 "It fits into our overall sustainability plan," she says, "especially our effort to become a carbon-neutral institution." In 2007 Bates joined the American College and University Presidents Climate Commitment, an agreement among schools (now totaling more than 500) to reduce institutional emissions of carbon-based greenhouse gases to help address the issue of climate change.
How much does the vanpool help? My commute to Bates is 68 miles round-trip. Accounting for vacations and holidays, that's roughly 16,000 miles a year. According to The Climate Trust's CO2 calculator, driving 16,000 miles in a 25-mpg vehicle puts about 6.2 tons of carbon dioxide into the atmosphere.
Van 39 probably puts out more than twice that much — but divided among 11 riders, the annual output per person is more like a ton.
All told, in a typical year registered GO MAINE commuters — including the 204 riders in the vanpools — will eliminate around 7,858,000 driving miles, adds GO MAINE Manager Carey Kish. Using the same calculator, that's about 3,045 tons of CO2 that won't go into the atmosphere.
Kish also estimates a total savings of $1,886,000 in driving expenses in a typical year (although that estimate is only as firm as the cost of fuel).
In my case, the monthly fare for Van 39 is $90, or about $4.30 per day. Compare that to buying gas for that same 25-mpg car: An annual drive of 16,000 miles a year divides out to 1,333 per month. At 25 miles per gallon, that's 53.3 gallons. Do the math: With gas at $4, that's more than $213 at the pump every month.
Then there are Turnpike tolls, upkeep on the car, and the cost of all those Starbucks coffees at the service area in Gray. Ninety bucks a month sounds better and better.
Moreover, compared to the daily solo commute that numbs your soul, drains your wallet and ruins your car, the vanpool is a pleasant way to travel. Some of us chat, some read, some pop in the earbuds and listen to music.
The vanpool is like a bus service in that it departs at set times from set locations. But riders subscribe instead of just showing up at the bus stop. Nine Van 39 riders work at Bates and the rest at nearby St. Mary's Regional Medical Center.
The vanpool came about through the initiative of Rosenbach and particularly her carpooling partner, St. Mary's staffer Nan Boucher. After Boucher contacted GO MAINE in March, she and Rosenbach quickly enlisted more than enough riders from the two institutions to fill the bus. By late April, the Portland-Lewiston run was a reality.
"Van 39 really took off on its own," says Kish. In fact, the GO MAINE vanpool program is distinguished by the initiative and community spirit of its participants. "We have the framework in place, but we like to operate mostly hands-off."
Indeed, making it all happen takes a collaborative effort. While Rosenbach is the regular driver and coordinates the ridership, other members help out with driving. We all help keep track of who's riding and who's not on a given day. We even provide extra eyes when the driver is backing up the bulky white Ford.
Or, as Rosenbach and Boucher like to say, it's a van pool, not a service. "That's our mantra, because you don't want just one person to carry the responsibility," Rosenbach explains. "But as soon as it's a community effort, people tend to take ownership."
The bus is currently full, but the waiting list isn't restricted to Bates or St. Mary's employees. "No matter where you are," says Rosenbach, "if you want to go from Portland to Lewiston, we have a van."
For casual users, GO MAINE provides a Web site with fuel-saving tips, mass transit schedules and trip-cost calculators. People who register with GO MAINE — it's free — are eligible for ride-matching services and an emergency-ride-home service, also free, in case there's a rideshare problem.
View Comments