Thompson named head baseball coach at Bates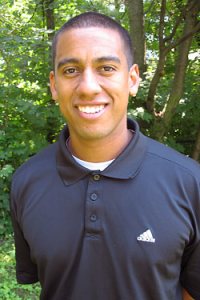 Edwin Thompson, a former Division I and professional baseball player from Maine, has been named head baseball coach at Bates College, Director of Athletics Kevin McHugh announced on Wednesday.
A native of Jay, Maine, Thompson, age 28, most recently served as associate head baseball coach and recruiting coordinator at the University of Maine–Farmington. Thompson played baseball at Division I Howard University and the University of Maryland before playing his final two years of college baseball at Webber University, where he earned his bachelor's degree in business administration. Thompson also had a two-year professional playing career with the Bangor Lumberjacks, an independent minor league team.
"We had an outstanding group of finalists with a wealth of baseball playing and coaching experience among them. Edwin came across as the perfect fit for Bates and the baseball program," said McHugh. "In addition to the high baseball IQ he possesses, we are also excited about the leadership, energy and enthusiasm that Edwin will bring to the program."
Thompson succeeds Craig Vandersea, who resigned in June.
"I'm thankful for the chance to coach at Bates and in my hometown area of Maine, and I'm very excited about the trajectory of this program," said Thompson. "We'll be a team that you'll want to come out and see play. We're going to do all the little things to win baseball games, and we're going to play with passion."
Thompson was also head boys' varsity basketball coach at Jay High School in 2007-08, meanwhile running his own baseball summer camp in Jay.
Bates returns numerous productive young players. Last year's freshman class included infielder Jake Simon, who started 25 games and batted .402 with a team-high 26 RBIs and shared the team lead in homers (3). Other promising rookies included infielder Noah Lynd, catcher Gordy Webb, outfielder Rich Velotta, infielder/outfielder Luke Wamboldt and pitchers Paul Chiampa, Ryan Heide and Alex Gallant.
Also returning are Tom Beaton, who batted .343 and scored 27 runs while playing superior defense in the outfield and both middle-infield positions; and pitchers Ryan Horvath (3.97 ERA), Chuck Murphy-Romboletti (2-1, 2 saves, .250 opponents' batting average) and Custer Cook (2-3, .248 opponents' batting average).
View Comments