Economist Lynne Lewis measures dams' effects on property values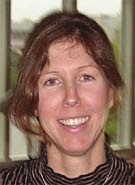 When a hydropower dam on Maine's Kennebec River was taken out in 1999, not everyone agreed that was a good thing.
But recent research by Bates environmental economist Lynne Lewis shows just how good a thing it was.
Removing the Edwards Dam restored 17 miles of this important river to a more natural condition. Those miles once again became home to such migratory fish as striped bass and Atlantic salmon, as well as the birds that prey on them and nature lovers eager to experience the river's transformation.
Historically, in states like Maine where rivers were treated as part of the industrial infrastructure, pollution and other industrial effects depressed the value of property near rivers. Lewis' Kennebec research offers proof that the opposite effect holds true as well: Restoring a river to a more natural state raises those values.
To compare the worth of properties before and after the dam was removed, her innovative model combined geographic information systems (GIS) technology, home sales in the region, and the results of surveys asking recreational users how they felt about the river.
GIS allows Lewis and the Bates students who work with her to relate their data precisely to locations around the river. The before-and-after data from both the real estate market and the surveys shed light on a property's "hedonic" value — the extent to which property pleases the people who use it.
"We can ask people what something's worth to them, and that's the survey work," she explains. For example, how much do people say they're willing to pay for better air quality?
On the other hand, the property value component shows how people actually spend their money, as opposed to how they say they would spend it.
"Everything about water resources fascinates me," says Lewis, who is now doing similar work involving the Penobscot and Androscoggin rivers, and has become a go-to authority on dam removal.
"It's the life blood of the universe, and we can't live without it — and we fight over it and put our garbage in it."
Leave a Reply
This is a forum for sharing your thoughts about the preceding post with the public. If you have a question for the author, please email the Bates Communications Office at communications@bates.edu.