Bates Dance Festival features contemporary African dance and film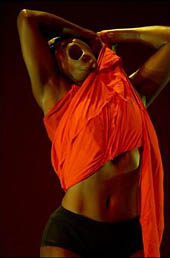 The Bates Dance Festival presents a weeklong focus on the extraordinary performing arts of contemporary Africa. The week includes panel discussions with the artists, a screening of the acclaimed film Movement (R)evolution, talks with noted dance scholar and filmmaker Joan Frosch, and Africa/NOW, a performance by Nora Chipaumire and Gregory Maqoma, two exceptional African artists.
The festival presents Africa/NOW at 8 p.m. Friday and Saturday, July 25 and 26, in Schaeffer Theatre, 365 College St., Bates College. Tickets are $20/$12 (students and seniors) and may be purchased by calling 207-786-6161 after July 7.
Nora Chipaumire is known for provocative and politically relevant dances that illuminate the struggles of human identity in an increasingly borderless world. She presents an excerpt from Chimurenga, a post-revolution solo that uses movement, film, text and sound to confront the personal and collective trauma of surviving Zimbabwe's second war of liberation. Featuring the music of Thomas Mapfumo, this multimedia performance memoir moves from recollections of a childhood filled with violence into a celebration of life.
Chipaumire is a remarkable solo dance artist who investigates the collaborative process within the cultural, political, economic and technological identities of African contemporary life. Chipaumire was born in Mutare, Zimbabwe, during the Chimurenga Chechipiri, or second war of liberation. A self-exiled artist now based in New York, she has been a featured dancer with the world-renowned Urban Bush Women for three years. Her work is inspired by art from her native country, such as shona sculpture and chimurenga music — art that results from the often violent convergence of rural/urban, African/non-African, cultural, economic, colonial and technological ideas. A visionary African contemporary dance artist, her work speaks to the human condition with power, authority and urgency.
Gregory Maqoma is one of the most talented choreographers to emerge from the new generation of South African artists. He performs an excerpt from his new solo "Beautiful Me," created with choreographers Akram Khan, Faustin Linyekula and Vincent Sekwati Mantsoe. The choreographers contributed their choreographic language, movement, music and text towards the realization of Beautiful Me.The work is a connection to tradition and style that Maqoma has translated to reflect his choreographic landscape and body. Beautiful Me includes an original score by four South African musicians who specialize in distinctive instrumental intonations using sitar, violin, cello and percussion.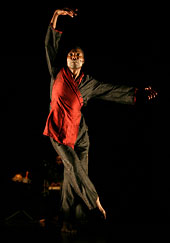 Described as a "visionary," "the gentle enfant terrible of South African Dance" and "an original post-modern African Renaissance man," Maqoma is founder and artistic director of Vuyani Dance Theatre in Johannesburg, South Africa. He was trained in South Africa and Belgium. As a choreographer, teacher, dancer, artistic consultant and creative director, he has taught and presented work in the Netherlands, United Kingdom, Sweden, Switzerland, Mexico, Finland, Burkina Faso, Austria, Nigeria, France, Senegal, Norway, Belgium, Germany, the U.S. and South Africa. His awards, accolades and nominations include the FNB Dance Umbrella Choreographer of the Year, Standard Bank Young Artist for the Year and Gauteng MEC Award for Choreography. A Rolex Mentor and Protégé Award Finalist as well as a Daimler Chrysler Choreography Award finalist, Maqoma serves as associate artistic director for Moving Into Dance and artistic director of The Afro Vibes Festival in the Netherlands. He is founding member of MUiSA (Multi Arts Initiative of South Africa).
In addition to the main stage performance, the festival offers several free and low-cost events focused on African contemporary dance. "Global Exchange: Sharing Across Cultures," a panel discussion with international visiting artists, takes place at 8 p.m. Tuesday, July 22, in Olin Arts Center Recital Hall, 75 Russell St., Bates College.  Filmmaker and scholar Joan Frosch screens and discusses her acclaimed film Movement (R)evolution, a portrait of the vibrant contemporary dance scene in Africa, at 8 p.m. Thursday, July 24, in the Olin Arts Center, 75 Russell St.
"Inside Dance: Understanding Contemporary Dance," a pre-performance lecture led by Joan Frosch offering insight into the artists and their work, will accompany Africa/NOW at 7:15 p.m. Friday, July 25, in Schaeffer Theatre, 365 College St.
View Comments