Sema Kazarian '11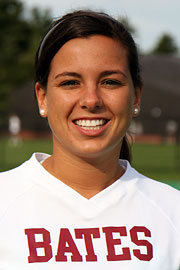 The Bates field hockey team was in need of scoring entering last week, averaging only 1.00 goals per game. The Bobcats responded forcefully in a 1-1 week, defeating New England College 5-1 before losing at No. 10 Tufts by a 4-2 score. Bates was the first team to score more than one goal on the powerful Jumbos.
Sophomore forward Sema Kazarian (Providence, R.I.) led the scoring breakthrough with three goals on the week — two against New England College and another against Bates. Kazarian now leads the Bobcats with four goals for eight points.
Bates takes on non-conference opponent Husson College on Wednesday at 5 p.m., before hosting Connecticut College Saturday at noon during Parents & Family Weekend.
Leave a Reply
This is a forum for sharing your thoughts about the preceding post with the public. If you have a question for the author, please email the Bates Communications Office at communications@bates.edu.