Lee Smith '12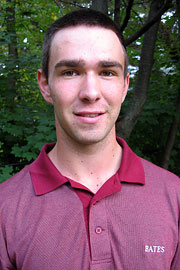 Bates College first-year golfer Lee Smith became the first Bobcat golfer to earn NESCAC Golf Rookie of the Year honors, and he was named to the All-Conference First Team for his performance at last weekend's NESCAC Men's Golf Qualifier.
Smith (Lexington, Mass.) finished tied for fifth at last weekend's NESCAC Golf Qualifier at the par 71 Ralph Myhre Golf Course in Middlebury, Vt. The rookie followed his first-day score of 73 with 77 for a two-day score of 150, putting him in a four-way tie for fifth place with Jeff Cutter of Bowdoin, Jack Killea of Williams and Trinity's Jay Driscoll. Trinity's Reid Longley shot a 141 to lead the pack, capturing his second NESCAC Player of the Year award.
Smith is the third Bates golfer to receive NESCAC All-Conference honors in the past decade, after Dominic Lee '04 in 2003 and Jake Cox '08 in 2005, but he is the first Bobcat to receive First Team honors.
Smith and the Bobcats are competing Oct. 1 at the Thomas College Terrier Classic at Boothbay Country Club. Bates will host the CBB Championship this Sunday at Martindale Country Club in Auburn, Maine.
View Comments