Jazz sax, classical duo come to Bates stage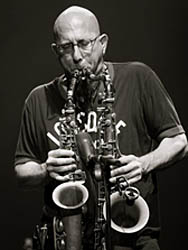 A concert featuring a saxophonist known for his work with banjoist Bela Fleck and a performance by pianist Frank Glazer and violinist Curtis Macomber highlight the Bates College calendar in the coming days.
Jazz saxophonist Jeff Coffin, with the Thomas Snow Trio, performs at 8 p.m. Wednesday, Oct. 22, in the Olin Arts Center, 75 Russell St. Coffin also leads a masterclass earlier in the day, at 4:15 p.m., for amateur jazz saxophonists.
Former members of the New England Piano Quartette, Glazer and Macomber perform Beethoven's Sonata in A major, No. 9 (Op. 47; "Kreutzer") and works by Mozart and Schubert at 3 p.m. Sunday, Oct. 26, also in the Olin auditorium.
The concerts and masterclass are open to the public and free of charge, but tickets are required. For more information, please contact 207-786-6135 or olinarts@bates.edu.
A member of the two-time Grammy Award winning Bela Fleck and the Flecktones, Coffin has shared the stage with such diverse and renowned acts as the Dave Matthews Band, Phish, Van Morrison, the Dixie Chicks, Umphrey's McGee and Lynyrd Skynyrd.
Known for his ability to play alto and tenor sax simultaneously, Coffin defies labels in favor of the pure essence of musical creativity. "Whether it be New Orleans 'second line,' African music, Indian ragas, folk songs, Alan Lomax field recordings, jazz or funk," he writes on the Web site for one of his bands, The Mu'tet, "the spirit and breath of the music is what I take away from listening and playing. It's what decides for me whether I like it or not."
The Thomas Snow Trio consists of pianist Snow, a lecturer in music at Bates and director of the college jazz band; bassist Tim Webb; and drummer Steve Grover, a member of Bates' applied music faculty.
Glazer, of Topsham, has been a resident artist at Bates since 1980. He is a musician of international stature whose long career includes numerous recordings and premieres of contemporary music, his own television program in the 1950s and countless solo recitals and performances with orchestras and chamber ensembles, including the New England Piano Quartette, of which he was a founder.
"Just to be in the room while Frank Glazer shares his tremendous musical wisdom and experience with artists like Macomber and the Parker quartet will be a treat," says Seth Warner, manager of the Olin concert hall.
In the 1930s Glazer studied with both Artur Schnabel, a leading interpreter of the Viennese masters, and with Arnold Schoenberg, whose atonal compositions were the antithesis of Viennese lyricism.
Glazer was 21 when he made his New York debut at Town Hall on Oct. 20, 1936. That event (recreated at Bates on its 70th anniversary in 2006) marked the start of a performing career that finds this artist creatively robust in his 90s.
Macomber is a musician whose playing was praised by Fanfare magazine as "remarkable for its depth of feeling as well as for technical excellence." He is considered one of the most versatile soloists and chamber musicians before the public today, with a range spanning Bach and Babbitt and a discography ranging from the complete Brahms string quartets to the Roger Sessions solo sonata.
View Comments