Global Lens 2008 film series continues with The Custodian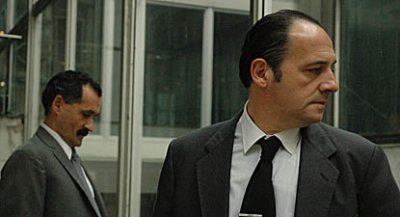 The Global Lens 2008 film series, a touring program of narrative feature films from Latin America, the Middle East, Africa, Europe and Asia, continues at Bates College with the 2006 Argentinian drama The Custodian at 7 p.m. Thursday, Oct. 30, Room 105 of the Olin Arts Center, 75 Russell St.
The Bates College Museum of Art presents the series in cooperation with the college's Multicultural Center. The public is welcome to all of the films at no charge. For more information, please call 207-786-6158.
The series is assembled and distributed by the Global Film Initiative, a U.S.–based nonprofit organization promoting independent filmmaking in Africa, Asia, Latin America and the Middle East. Founded in 2002 with the mission of promoting cross-cultural understanding through cinema, each year the initiative not only presents the film series but awards grants to deserving filmmakers from around the world. For more information, please visit the initiative's Web site.
In The Custodian, Julio Chávez portrays Ruben, the bodyguard for a high-profile politician. Ruben is reduced to a mere shadow of a man: every action in his life is regulated by a series of mundane routines, and everywhere his boss goes he must follow, watching but never speaking.
Resigned to his invisibility, his life is a series of days without meaning, punctuated only by visits to a prostitute, in this compelling chronicle by first-time director Rodrigo Moreno.
The Global Lens series, now in its fifth year, premiered at the Museum of Modern Art in New York in January and is traveling around the country to more than 40 locations. Read more about the films and view the series trailer and individual film trailers.
All of the Bates screenings begin at 7 p.m. Here's the rest of the series:
The Fish Fall in Love (Iran, 2006), Wednesday, Nov. 5, Olin 104.
Kept & Dreamless (Argentina, 2005), Thursday, Nov. 6, Olin 105.
The Kite (Lebanon, 2004), Wednesday, Nov. 12, Olin 104.
Let the Wind Blow (India, 2004), Wednesday, Nov. 19, Olin 104.
Luxury Car (China, 2006), Wednesday, Dec. 3, Olin 105.
Opera Jawa (Indonesia, 2006), Thursday, Dec. 4, Olin 105.
View Comments