The inauguration: 'Obama is the first president I ever voted for'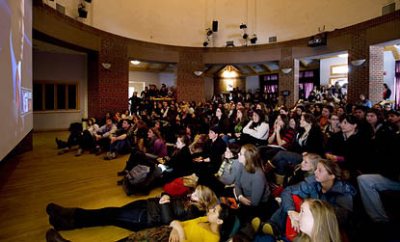 "I wouldn't be as excited if I was watching by myself," said Janee White '12 of New York, one of some 300 members of the Bates community gathered to watch the inauguration of President Barack Obama. "But I would still be jumping up and down."
For sure, there was an electric mood among the students, staff and faculty at the Benjamin Mays Center (named for the Bates-educated civil rights leader and educator). As unforgettable occasions go, it had all the right stuff: a buoyant celebration, a shared sensation that history was shifting gears — and all in the intimate atmosphere of a TV party with your best friends, complete with dim lights, a big screen and snacks.
"It's exciting," said Natalie Silverman '12 of New York. She paused for a second as the room erupted in applause — former President Bill Clinton and Sen. Hillary Clinton had just been introduced in Washington.
Silverman continued, "Obama is the first president I ever voted for."
History in the making, but it was still a TV party. At one point, CNN's camera showed Obama turning to wink at someone, and a gasp and titter rippled through the Mays Center. Sorry, Bill Clinton: Barack Obama is the first real rock star president.
Later, the Bates gathering got a big laugh out of Pastor Rick Warren's weirdly emphatic pronunciation of the Obama daughters' names, Sasha and Malia. Likewise odd was the response when departing President Bush and veep Cheney were introduced: nearly nothing, just a fleeting pause in the chatter.
The viewers tightened their focus as noon drew near and with it, the legal beginning of Obama's term and his swearing-in as president. Bates President Elaine Tuttle Hansen, Dean of Admissions Wylie Mitchell and other senior staff stood just inside an open side door, sunlight streaming in around them. A few last spectators filtered in.
Aretha Franklin stopped time — and won a very warm Bates round of applause — with her incandescent delivery of "My Country, 'Tis of Thee." The performance by a classical quartet featuring cellist Yo-Yo Ma created a different effect of time, seeming to slow and broaden it as the cameras soared over the thousands clustered on the National Mall, and as we waited here at Bates.
That reverie was interrupted as a CNN voice announced that noon had come and with it, the start of the Obama presidency. The applause nearly lifted the roof off the Mays Center. And then the swearing in, and then the uplifting speech. As unforgettable occasions go, all the right stuff.
Janee White said that watching the inauguration with a crowd definitely upped the excitement. Another spectator agreed. "It's a great opportunity for community-building," said Assistant Professor of Religious Studies Susan Schomburg.
To Schomburg, in fact, the occasion paralleled an idea from pioneering French sociologist Emile Durkheim. Simply put, Durkheim described religion as a society's expression of its unifying values and ideals — and so too was the advent of this particular president, bringing a renewed sense of American community to the fore.
But, Schomburg said, "It's not just national history. It's world history."
View Comments