Bobcat of the week: Bobby Burns '12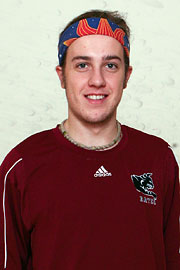 When Bates first-year Bobby Burns (Greenwich, Conn.) defeated his Connecticut College opponent with allowing a point on Sunday, he brought to 10 matches his own personal winning streak. That remarkable streak included wins over his counterparts in last weekend's team losses to top-ranked Trinity (8-1) and No. 3 Yale (7-2).
During Burns' streak he has provided the Bobcats with points in 8-1 losses to Trinity and Williams as well as in the 7-2 loss to Yale and a 5-4 loss to Franklin & Marshall.
Burns and the No. 12-ranked Bobcats earned the No. 3 seed in this weekend's NESCAC Championship at Trinity, and will face the winner between Middlebury and Wesleyan in the tournament quarterfinals on Saturday at 1:15 p.m.
View Comments