Bump Heldman '12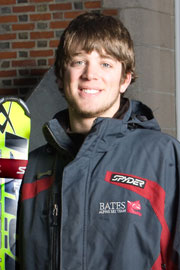 Bates first-year alpine skier Bump Heldman (Auburn, Maine) placed ninth out of 58 competitors in the giant slalom on Friday, and 10th out of 58 competitors in Saturday's slalom, leading the Bobcat alpine team over the weekend at the Dartmouth Winter Carnival at Dartmouth Skiway.
In Friday's giant slalom, Heldman had a two-run combined time of 1:50.09 to lead the Bates men to eighth place out of 10 teams in the event. In Saturday's slaloms, registered his second top-10 finish in as many days, recording a two-run combined time of 1:36.11 for 10th place out of 58 competitors, leading the Bates men to seventh place out of the 10 competing teams. The combined Bates alpine and Nordic ski teams placed sixth out of 13 teams at the carnival.
They were the first two top-10 finishes of the year for the promising freshman, and gave a boost to Heldman's chances of making the field in the 2009 NCAA Skiing Championships, which Bates will host March 11-14. He currently ranks 15th in both the slalom and giant slalom on the men's Eastern Intercollegiate Skiing Association carnival circuit.
View Comments