Women's hoops earn fourth seed in NESCACs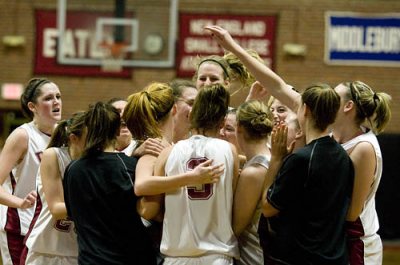 Women's basketball teammates converge after the final buzzer reveals the Bobcats as 73-71 winners over rival Colby in a fiercely contested Jan. 13 Alumni gymnasium contest.
The team finished the regular season with a 62-51 loss at No. 18 nationally ranked Tufts University on Feb. 14 at Cousens Gymnasium.The Bobcats finish 16-8 overall and 5-4 in the conference, and earn the fourth seed in next weekend's NESCAC Championship. Bates will host fifth-seeded Trinity College (16-7, 4-5 NESCAC) at 3 p.m. on Saturday, Jan. 21, in the tournament quarterfinals.
Leave a Reply
This is a forum for sharing your thoughts about the preceding post with the public. If you have a question for the author, please email the Bates Communications Office at communications@bates.edu.