Natalie Ruppertsburger '11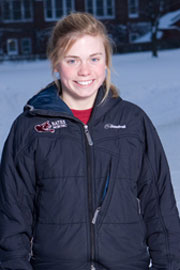 Bates sophomore Natalie Ruppertsburger had another strong weekend at the Dartmouth Winter Carnival, placing seventh in the 5K Classic Technique race and 19th in the 10K Free Technique race.
Ruppertsburger (Plainfield, N.H.) led the Bates women's Nordic team to third place out of 13 teams in the event, covering the Oak Hill course in 15:57.2 on Friday in the 5K Classic. It was her third top-10 finish of the carnival season and her best to date.
On Saturday in the women's 10K freestyle race, Ruppertsburger was 19th in 32:05.9, right behind first-year teammate Beth Taylor (Norwich, Vt.), who was 18th in 32:04.6 out of 65 competitors. Ruppertsburger currently ranks 12th among women Nordic skiers on the EISA carnival circuit, putting her in strong position to become the first Bates women's Nordic skier to compete at the NCAA Skiing Championships since Kaitlyn McElroy '07 did in 2006. (Bates is the host school for this year's NCAA Skiing Championships.)
Bates' combined alpine and Nordic ski teams finished sixth out of 13 teams in the final standings in the carnival with 574.5 points, only half a point behind fifth-place Williams and 23.5 points ahead of rival Colby. Bates competes this weekend in the Middlebury Carnival.
View Comments