CDC policy analyst Alicia Hunter '94 offers a healthy helping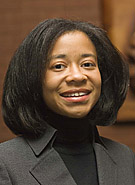 When statistics showed high obesity rates among New York City children, the city's Health Department implemented changes to the city's daycare regulations, mandating space for indoor play, more physical activity, less TV watching and removal of sugar-sweetened drinks on site.
"Some 300,000 children are affected by the new regulations," says Alicia Hunter '94, a senior health policy analyst for the National Center for Chronic Disease Prevention and Health Promotion, part of the Centers for Disease Control and Prevention in Atlanta.
Hunter's work has focused on childhood obesity and its ramifications — such as the possibility that this generation may be the first in history not to outlive their parents' generation. True, there are no easy fixes for the well-publicized trends seen in both children and adults. But there are contributing factors: poor nutritional choices, lack of proper exercise and the popularity of "screen time."
Solutions, like the one implemented in New York City in 2007, will only emerge when health professionals begin to reevaluate their role, says Hunter, a Bates political science major who holds a dual degree in law and social work from UNC–Chapel Hill.
"Public health practitioners need to understand the legal framework in which they operate. They need to know how to educate policymakers about public-health interventions and how to implement existing policies — legislative or regulatory — to effect better public-health practices."
Such efforts can make substantial changes in people's daily lives without passing broad new laws. And though personal responsibility plays a role in this issue, Hunter says, "we have to realize that no one person can effect personal behavioral change if they are not in a setting that's conducive to that change."
— Michele Pavitt
View Comments