Authority on diversity in higher education to speak at Bates College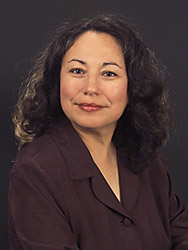 Sylvia Hurtado, an expert on student educational outcomes and diversity in higher education, visits Bates College to give a talk titled "Preparing College Students for a Diverse Democracy" at 4:15 p.m. Thursday, March 12, in the Keck Classroom (G52), Pettengill Hall, Alumni Walk.
Part of the Bates psychology department's "Diversity and Domains of Life" series, the talk is open to the public at no charge. For more information, please call 207-786-8297.
Hurtado is professor and director of the Higher Education Research Institute at the University of California, Los Angeles, in the Graduate School of Education and Information Sciences. Prior to arriving at UCLA, she served as director of the Center for the Study of Higher and Postsecondary Education at the University of Michigan.
The magazine Black Issues In Higher Education named Hurtado among the top 15 influential faculty whose work has made an academic impact. She has published numerous articles and books related to her primary interests in student educational outcomes, campus climates, college impact on student development and diversity in higher education.
She has served on numerous editorial boards for journals in education, and on the boards of the American Association of Higher Education (of which she is a past president) and the Higher Learning Commission.
Hurtado has coordinated several national research projects, including a U.S. Department of Education-sponsored initiative on how colleges are preparing students to achieve the cognitive, social and civic skills to participate in a diverse democracy. She is launching a National Institutes of Health project on the preparation of underrepresented students for biomedical and behavioral science research careers.
She has also studied assessment, reform and innovation in undergraduate education on a project through the National Center for Postsecondary Improvement.
Hurtado earned her doctorate in education from UCLA, her master's from Harvard Graduate School of Education and an A.B. in sociology from Princeton University.
View Comments