Everything Downhill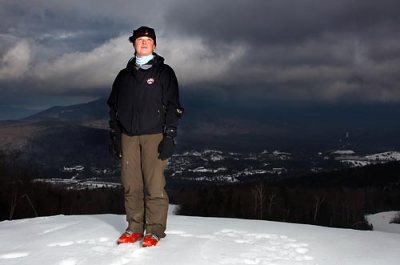 It's pandemonium atop a beginner lift at the Bretton Woods ski resort in New Hampshire. Limbs flail, ski equipment disconnects, and clothing detaches as fledgling skiers hit the snow on their first lift ride.
Then Alexa Bernotavicz '94 steps in. She rights the skiers, guides them out of harm's way, and readies the lift for yet another wave of chaos. While this isn't Bernotavicz's permanent spot, it's an apt metaphor for her job overseeing on-hill operations at Bretton Woods, including snowmaking, grooming, lifts, and the Ski Patrol.
The job isn't so much about telling people what to do as it is "making sure that all departments are communicating with each other," says Bernotavicz, a high honors geology major at Bates.As with any outdoor work, Bernotavicz's day-to-day schedule is at the mercy of the weather. "Never thought I'd be an amateur meteorologist," she says with a laugh, her demeanor cool and sunny. "The weather dictates what I do every day. If a storm's coming in, you have to coordinate snowplows and grooming."
There's a larger seasonal rhythm, too. During peak winter periods, like school vacation weeks, "we're in the moment, focusing on skiers' experiences," she says. qBy late February, the focus turns to summer projects and maintenance.
Perhaps due to the recession — keeping New Englanders close to home — and/or a decent snow season, New England ski areas enjoyed an uptick in business in 2008–09, according to media reports. But generally, the industry has seen flat growth, so competition to attract skiers is intense.
At any mountain, "people go up a chair lift, and come down a ski trail," she says, so every mountain's goal is product differentiation. "You have to make your experience different." Last year, Bernotavicz was involved in the installation of a new canopy tour at Bretton Woods, part of the fabled Mount Washington Resort, that descends 1,000 feet via treetop zip lines connected by trails and suspension bridges. "It's one of a kind in New England," she says. "We hope it helps ramp up our summer operations."
And no matter what breaks down, which lift operator doesn't show up, or how many finely planned events go awry, at the end of the day, Bernotavicz says, "I get to work where other people vacation. That's pretty special." [Slide show]
Photographs and text by H. Lincoln Benedict '09
Leave a Reply
This is a forum for sharing your thoughts about the preceding post with the public. If you have a question for the author, please email the Bates Communications Office at communications@bates.edu.