Passing Thought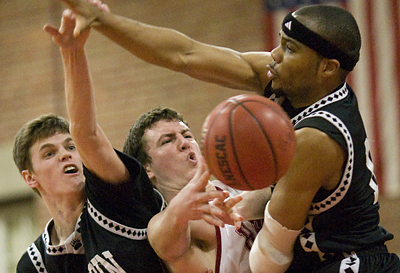 With 4:34 remaining in the first half of the men's basketball game vs. Bowdoin on Jan. 23, 2009, Neil Creahan '10 of Hingham, Mass., drives between Bowdoin defenders and dishes to Jimmy O'Keefe '10 (not pictured) of Lexington, Mass., for the layup. "The play was for Neil to go one-on-one, to let him operate," explains head coach Jon Furbush '05. Creahan picks up the story: "I beat my man, then was met by the second line of defense. With two guys on me, I found O'Keefe on the basket." The Bobcats won, 57–54, giving Furbush his initial NESCAC coaching victory before a rambunctious home crowd in Alumni Gym.
Photograph by Phyllis Graber Jensen
Leave a Reply
This is a forum for sharing your thoughts about the preceding post with the public. If you have a question for the author, please email the Bates Communications Office at communications@bates.edu.