A Step Ahead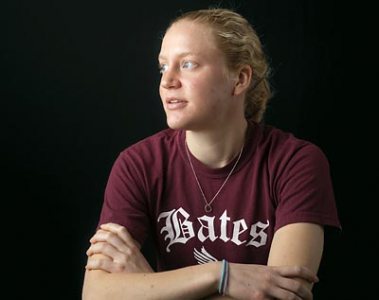 During her first year as a Bates runner, Isabel Alexander '09 always sprinted clear of her teammates. Usually that's a sign of great talent. But Alexander was doing it during warmups.
Apparently unaware of the potential for showing up her teammates, Alexander seemed to have just one speed — top.
Running ahead during warmups is "usually something that might really annoy your teammates," says head coach Jay Hartshorn. "But she would get away with it because she's so sweet and nice and fun and caring. People sort of said, 'Oh, that's just Izzy.'"
Heading into the outdoor season, Alexander is already one of the best female runners in Bates history. Her athletic résumé includes three All-America honors in three events — the indoor distance medley relay, the indoor 800-meter run, and the outdoor 400-meter hurdles — as well as two NESCAC championships, four New England Division III titles, and last year's Bates Female Athlete of the Year award.
"She's different from anyone I've ever coached," says Hartshorn. Alexander's laid-back persona masks incredible intensity that's "only obvious in that she never misses a practice, and she's the first one there and the last to leave. When I go home for the night I have to tell her, 'OK, track's over.'"
As a first-year, Alexander had a teammate who was a role model in terms of work ethic: Keelin Godsey '06, the Bates thrower nonpareil who won 16 All-America awards and two NCAA titles.
"I think he's the toughest person I've ever met," Alexander says. "Just knowing how much he practiced, how hard he worked, how good he was. He's definitely a good person to look to if you want a great athlete in all senses of the word."
Alexander's name now dots the team's record books, too: six indoor marks and three outdoor marks bear her name, and she's among the top five on Bates' all-time performance lists in eight other events. She doesn't exactly bask in her achievements, however.
For example, as a sophomore competing at the NCAA Outdoor Championships, she was one of nine athletes to make the finals of the 400-meter hurdles. The top eight would earn coveted All-America honors, but Alexander finished dead last. Yet this race is one of Alexander's best memories.
"Some of my favorite races, in retrospect, have been the bad ones," she says. "Having to walk away as that one person not up on the podium was special, in a way, because then there's that extra motivation: I don't want to be that last person again."
Even when she established herself as an elite Division III athlete in some events (like the 400 hurdles and the 800), it didn't change her desire to compete in events less suited to her, such as the shot put in the heptathlon or running cross country all four years. "I think it's important to try and do things that you're not as good at," she says. "Dealing with frustrations not only keeps you humble, but I think it makes you more of a complete athlete and person."
So it's no surprise, then, that Alexander seems to be "plugged into everything" at Bates, says Kevin McHugh, director of athletics. With men's soccer and lacrosse player Nate Kellogg '09, Alexander coordinated the first Bates Field Day last spring, a much-hailed event that brought together an estimated 200 local children to campus for a day of serious game-playing with about 100 Bates student-athletes.
"Izzy has been really focused in terms of getting other athletes involved in community service," McHugh says. "She seems to have the inherent feeling that that's an obligation as student-athletes and people."
The second of four children of Matthew and Pamela Alexander of Harvard, Mass., Alexander is a double major in Spanish and psychology with a 3.7-plus GPA. Like her classmates, she will be thrust into the real world come Commencement on May 31. But at the moment she admits to being preoccupied with track, not the future. "I've been having such a good time with this, and I have such a passion for the sport. Maybe it's an underlying obsession, I don't know."
She has even bought into Hartshorn's advice that going all out all the time, like during those warmups, isn't always the most pragmatic approach, not only because of the risk of injury but because she wants to be a great teammate, too.
"I think we're a good team, a good group of people," she says. "I can't think of anything else I'd rather be doing than what I'm doing with these people."
Alexander pauses, perhaps trying to remember a day when she didn't want to be on a track. She remembers last year's first outdoor meet at Tufts, when wind chills hovered around 20 degrees, and "they were scraping ice off the pits for the steeplechase."
Giving herself a reality check, she remembers that day, and others. "I ask myself: 'Is there anywhere in the world that I'd rather be, or something else that I'd rather be doing right now?' The answer has always been, 'No.'"
By Andy Walter, photograph By Phyllis Graber Jensen
View Comments