They Came, They Bought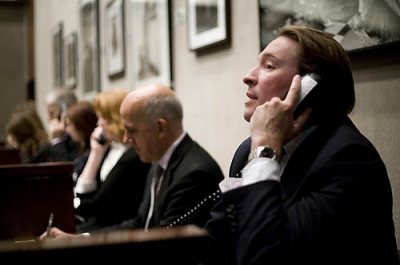 It's Dec. 16, and they're coming. Scores of visitors stream into the Manhattan headquarters of Christie's, the purveyor of highbrow art and culture, for the two-day sale Icons of Glamour and Style: The Constantiner Collection.
The 320 photographs on the block represent the "most important collection of fashion photography that we know of," says Joshua Holdeman '93, international director of 20th-century art at Christie's.
Despite the collection's significance, Holdeman and his Christie's team at 20 Rockefeller Center are concerned about the sale. The economy is imploding, and buyers are skittish. (Later in the winter, Christie's and rival Sotheby's would both announce layoffs.) Will these fashion and celebrity images, made by photographic legends such as Helmut Newton, Richard Avedon, and Irving Penn, actually sell?
At least today, not to worry. During an electric first night, Newton's life-size, four-panel gelatin silver print of Vogue runway models, Sie Kommen, Paris (Naked and Dressed), fetches $662,500. The final sale total is $7,721,875.
---
---
At the auction's close, Holdeman is more than relieved. Given the recession, "we were ecstatic," he says.
Holdeman was an art major at Bates — he studied painting as well as art history — then left for New York, where he's worked his way up the gallery and auction ladder while trying retain to a certain equilibrium. "The world is a crazy place," he says, so he's guided by principals he saw in action daily at Bates: "There's no substitute for hard work and ethical, straightforward behavior."
Holdeman represents clients in Europe, Asia, the Middle East, and the U.S., helping them develop and manage their collections. Managing client expectations is a constant challenge because — understandably — "many people believe their objects are worth more than they are." His best clients, he says, "let me do my job."
On this night in New York, Holdeman is constantly on the phone — sometimes two phones — working with clients, assessing the dynamic situation. Every client bid reflects a certain level of trust in Holdeman's assessment of a dynamic situation. It's these relationships that give Holdeman great professional pleasure.
"It's all about the people," he says.
View Comments