Glazer piano concert marks 1949 Carnegie Hall debut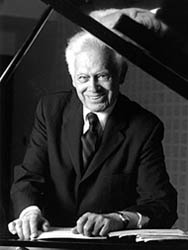 At 7:30 p.m. Wednesday, March 4, 94-year-old pianist Frank Glazer reprises the program that he played in his Carnegie Hall debut, 60 years ago to the day. The concert takes place at Bates College in the Olin Arts Center Concert Hall, 75 Russell St.
It is open to the public at no cost, but tickets are required. For more information, please contact 207-786-6135 or olinarts@bates.edu.
An artist in residence at Bates since 1980, Glazer is a musician of international renown, still vital and active after decades of touring, composing, recording and teaching. The program that he revisits on March 4 spans four centuries, from the seldom-heard Chaconne in G major by 18th-century composer George Frideric Handel to a set of variations by Glazer's near-contemporary Aaron Copland.
Glazer, of Topsham, has enjoyed a career distinguished by numerous recordings, a television program in the 1950s and countless solo recitals and performances with orchestras and chamber ensembles, including the New England Piano Quartette, of which he was a founder.
He taught at the Eastman School of Music for 15 years before coming to Maine in 1980. With his wife, the late Ruth Glazer, he founded the long-running Saco River Festival in Cornish.
View Comments