Bobcat of the week: Sylvan Ellefson '09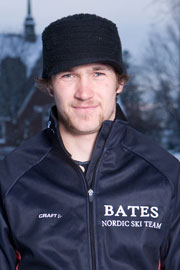 Making his fourth appearance at the NCAA Skiing Championships, senior Sylvan Ellefson (Vail, Colo.) didn't quite get the results he wanted, but he put forth an outstanding showing nonetheless and was a major factor in Bates' five-athlete contingent placing 13th overall at the championships, the Bobcats' fourth consecutive top-15 showing at NCAAs.
Ellefson felt under the weather at Thursday's 10K Classical Technique race, but he gutted out an 18th-place finish, covering the course in 25:34.4. On Saturday, on another beautiful day at Black Mountain, with a large representation of Bates supporters, Ellefson came in 12th in the 20K Freestyle race, narrowly missing his second career All-America honors, awarded to the top 10 finishers.
"I was so happy coming to the finish, but at the same time, it's the end of my college career. So it was a little bit sad, but awesome all at the same time," he said. "I'm happy with how I finished. The thing that made my day was the people from Bates that were here today; seeing all my friends and people from the crowd, it was really fun having people here."
Ellefson's senior teammate Sam Evans-Brown (Gilmanton Iron Works, N.H.), making his first NCAA appearance, also moved up on his second day, placing 27th in the freestyle after coming in 36th in the classical race. Sophomore Natalie Ruppertsberger (Plainfield, N.H.) also competed well on the women's side, giving Ellefson two Nordic teammates at NCAAs after two straight years of being the team's only representative at nationals. The Bates trio teamed up with alpine teammates Liz Thompson and Micaela Holland to represent Bates skiing in admirable fashion all week.
View Comments