Environmental journalist McKibben speaks at Bates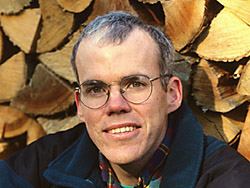 Bill McKibben, the environmental journalist who wrote the first book aimed at a general readership about climate change, gave a talk titled "Global Warming: Fighting Against It, Living With It" on Thursday, March 12.
Sponsored by the Harward Center for Community Partnerships at Bates, the McKibben event was part of the series "The Civic Forum: Maine in a Transnational Age."
Thursday, March 12, 2009, at 7:30 p.m.
Chase Hall Lounge, 56 Campus Avenue
Leave a Reply
This is a forum for sharing your thoughts about the preceding post with the public. If you have a question for the author, please email the Bates Communications Office at communications@bates.edu.