Kelsey Lamdin '09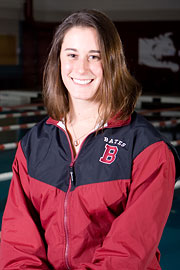 As Bates senior diver Kelsey Lamdin was warming up last Friday for the final competition of her collegiate career, her goal was to win an eighth All-America award and become the most decorated diver in Bates history.
But she would soon unintentionally prove herself as one of the toughest athletes ever to put on a Bobcat uniform.
Leave a Reply
This is a forum for sharing your thoughts about the preceding post with the public. If you have a question for the author, please email the Bates Communications Office at communications@bates.edu.