Ryan Quinn '11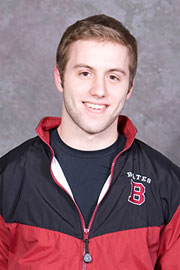 Bates College sophomore Ryan Quinn recorded two personal-best performances on Saturday as the Bobcats opened the outdoor season at the Snowflake Classic meet at Tufts.
Quinn (Watertown, Mass.) posted personal-best performances in both the 100- and 200-meter dashes, finishing second in the 100 in 11.19 seconds and fourth in the 200 at 22.71 seconds. His times put him at No. 6 and No. 10, respectively, on Bates' all-time outdoor performance lists. Quinn also anchored the 4×100 meter relay team, which finished second at the meet in a time of 44.02 seconds.
Quinn helped the Bobcats finish second out of 13 teams at the meet, and he was named the NESCAC Track & Field Men's Track Performer of the Week on Monday.
View Comments