Bates, Guiding Stars to provide nutritional guidance for campus dining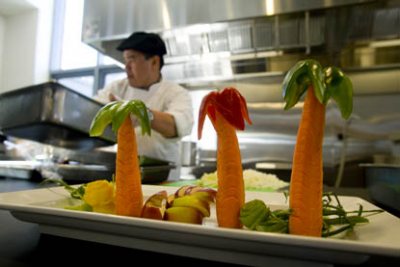 Known for its progressive food-service practices, Bates has announced a pioneering partnership with the highly regarded nutrition navigation system Guiding Stars. First implemented in 2006 and now used in some 1,400 grocery stores, the science-based Guiding Stars system rates foods with zero to three stars highlighting items according to good, better or best nutritional value, respectively. The Bates partnership is Guiding Stars Licensing Company's first with a college.
"At Bates, we believe strongly in nourishing mind and body by offering food that's fresh, delicious and healthful," said Christine Schwartz, director of Dining Services. "Guiding Stars lets us do that much more effectively — it gives our customers an easy guide to enhance their menu choices."
Leave a Reply
This is a forum for sharing your thoughts about the preceding post with the public. If you have a question for the author, please email the Bates Communications Office at communications@bates.edu.