Bates students advocate for research funding in Washington event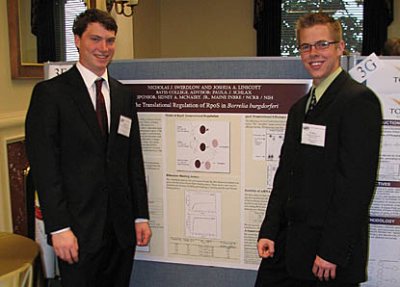 A Bates College junior from Maine and a senior from New York state presented biochemistry research to a U.S. representative from Maine this month as part of "Posters on the Hill," an annual event designed to remind Congress of the importance of undergraduate research.
Both majoring in biological chemistry, Joshua Linscott of Portland and Nicholas Swerdlow of Hastings-on-Hudson, N.Y., were among 78 undergraduates from across the nation to take part in the May 4-5 event sponsored by the Council on Undergraduate Research, a national organization that supports student-faculty collaborative research and scholarship.
The Bates pair presented genetic research involving the bacterium that causes Lyme disease, Borrelia burgdorferi. Working with Paula Schlax, associate professor of chemistry at Bates, they studied messenger RNA that regulates the expression of a protein connected with the microbe's transmission from ticks to mammals.
"The genome of this bacteria is quite unusual," says Schlax, "and understanding basic principles of protein synthesis will be essential in understanding its life cycle and its ability to be an effective pathogen."
The Posters on the Hill gatherings give undergraduate students and their professors a forum to explain their research to members of Congress and their staffs, and to discuss the importance of such research and federal financial support for it.
Linscott and Swerdlow met Maine Rep. Michael Michaud, who represents Maine's 2nd District, which includes Lewiston. "The Congressman has an excellent relationship with Bates and was very receptive to our visit," Swerdlow says. "He asked about our research and looked at our poster, but the meeting was focused on undergraduate research in general.
The pair emphasized that grants from the Maine IDeA [sic] Network of Biomedical Research Excellence, funded by the National Institutes of Health, have supported their research at Bates, Linscott says. "I think my voice represented the thoughts and needs of many undergrads. Undergraduate research is hugely important in preparing students to enter grad school or the job market."
Described by Schlax as a hard-working, fastidious student, Swerdlow wants to pursue a career combining research and medical practice. He has spent the last two summers performing clinical research on obesity.
Linscott has worked at IDEXX, the Westbrook-based veterinary diagnostics manufacturer, and hopes to do pharmaceuticals research after Bates. Schlax described him as "organized, careful and motivated."
For all of the students, Posters on the Hill included opportunities to network, see some sights in the nation's capital and share their research.
"It was amazing to be surrounded by reminders of the history of our country," Linscott says. "For all of us, I think, it was very freeing to be able to explain our research in depth to other students who could really understand what we were doing."
Leave a Reply
This is a forum for sharing your thoughts about the preceding post with the public. If you have a question for the author, please email the Bates Communications Office at communications@bates.edu.