Trio performs Hysterical Alphabet, stage piece about 'female malady'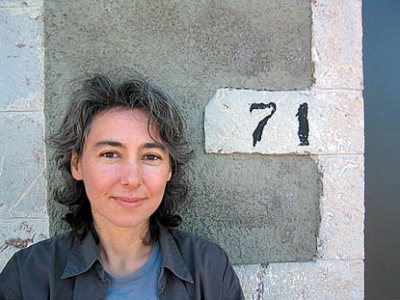 The Hysterical Alphabet, an acclaimed multimedia performance piece exploring the "female malady" of hysteria, will be performed at Bates College on May 20.
Terri Kapsalis, who scripted the piece and is one of its performers, will give a lecture on its creation at 4:15 p.m. Thursday, May 21, in Room G65, Pettengill Hall. Sponsored by the Mellon Learning Associates Program at Bates, both events are open to the public at no cost.
Produced by Theater Oobleck, of Chicago, The Hysterical Alphabet was created and is performed by sound designer John Corbett and film artist Danny Thompson, as well as Kapsalis.
The notion of hysteria dates back some 4,000 years, noted by the ancient Egyptians and dramatized by the Greeks, reinvented by Freud and other Victorian theorists and inventors, and is still in currency in the works of such pop culture figures as filmmaker John Waters.
Drawn from centuries of primary medical writings, The Hysterical Alphabet treats its condensed history of hysteria with levity, playfulness and critical insight. Using each letter of the alphabet to introduce a different episode, Kapsalis provides a spoken performance accompanied by Thompson's disquieting film collages and Corbett's vinyl manipulations.
The three premiered the piece in Chicago in 2007.
Kapsalis is a writer, improvisational musician, health care educator and founding member of Theater Oobleck. Her recent fiction Most Beautiful Experiments was published by Parakeet and nominated for a Pushcart Prize. She is the author of Public Privates: Performing Gynecology from Both Ends of the Speculum (Duke University Press, 1997), which Kapsalis imagines is the only book ever reviewed by the New England Journal of Medicine, The Village Voice and The Amateur Gynecologist (a medical fetishist website).
Corbett is a writer, sound-artist and curator. He teaches at the School of the Art Institute of Chicago and is the co-director of the art gallery Corbett vs. Dempsey. In 2002, he served as artistic director of JazzFest Berlin, and he co-curated the Empty Bottle Festival of Jazz and Improvised Music for nine years.
He is the producer of the Unheard Music Series, an archival program dedicated to creative music issues and re-isssues, and he is the author of Extended Play: Sounding Off from John Cage to Dr. Funkenstein (Duke, 1994).
Thompson is a founding member of Theater Oobleck, for which he has written many plays, including The Complete Lost Works of Samuel Beckett as Found in an Envelope (Partially Burned) in a Dustbin in Paris Labeled 'Never to be Performed. Never. Ever. Ever. Or I'll Sue! I'll Sue from the Grave!!!
The Complete Lost Works received the "Comedy Excellence Award" at the 2000 New York Fringe Festival and "Top Ten of the Fest" at the Edinburgh Fringe Festival, and extensively toured the United Kingdom.
Wednesday, May 20 at 6:30 p.m.
Benjamin Mays Center, 95 Russell St.
View Comments