Going Places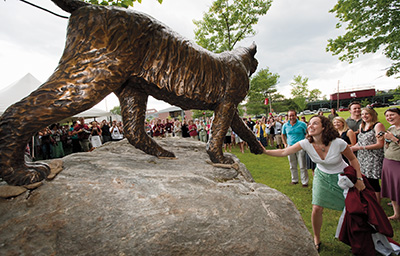 With classmates, alumni, and friends applauding the moment, Class of 2004 co-president Tanya Schwartz touches the paw of the new Bates Bobcat sculpture just after its unveiling at Reunion. Maine artist Forest Hart created the bronze sculpture, and when asked what he likes most about the piece he said with a smile: "It knows where it's going. Just like a Bates graduate." The Bobcat, which stands along the walk to Merrill Gymnasium, was funded by the Class of 2004's Senior Gift and other donors. It was also about 84 years in the making.
Photograph by Phyllis Graber Jensen
Leave a Reply
This is a forum for sharing your thoughts about the preceding post with the public. If you have a question for the author, please email the Bates Communications Office at communications@bates.edu.