Throwing a Party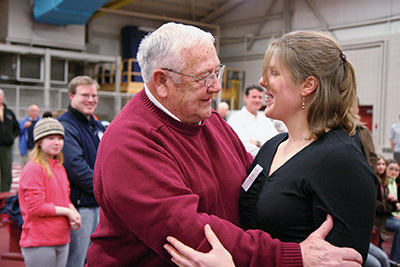 Erika Bristol '99 hugs her former throwing coach, Joe Woodhead, after she made one of the inaugual weight throws to help [intlink id="2147″ type="post"]dedicate of the Joseph Woodhead All-American Throwing Area[/intlink] in Merrill Gym in February. The event also celebrated renovations to the gym and Slovenski Track that included a new Mondo surface for track and tennis plus much-improved lighting. Woodhead has guided Bates throwers to 39 All-America honors and six NCAA championships in a quarter-century.
Photograph by Louisa Demmitt '09
Leave a Reply
This is a forum for sharing your thoughts about the preceding post with the public. If you have a question for the author, please email the Bates Communications Office at communications@bates.edu.