Werner J. Deiman Memorial Minute
Professor of English Carole Anne Taylor wrote and delivered this memorial minute for Professor Emeritus of English Werner J. Deiman, who died Feb. 5, 2009.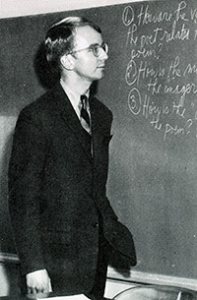 Werner Deiman spent his precocious childhood as something of a prodigy at the piano, once appearing on the Ted Mack's Original Amateur Hour at the height of its popularity. He attended Washington and Lee as an English major, receiving several scholarships and a fine arts award for piano performance.
From there, he went to Yale where he got a Ph.D. under the tutelage of R.W.B. Lewis and Cleanth Brooks and wrote his dissertation on Virginia Woolf's Between the Acts.
He came directly to Bates in 1964 as one of the first younger faculty appointed in what Carl Straub describes as "the beginning of the transformation of the faculty into a new era of professional standards and expectations." At Bates, he would receive fellowships from the Woodrow Wilson Foundation, the National Endowment for the Humanities, and the West German government; he published on both John Ruskin and Woolf, and served for years as a trenchant music critic for the Maine Sunday Telegram; and he taught courses in Romantic literature, the Aesthetic Movement, the Bloomsbury Group, modern British literature, and modern European literature.
Werner taught at Bates from 1964 to 1991 and by all accounts was a beloved teacher and colleague in the years before I came in 1978. I am much indebted here to the words of Carl (at the time of Werner's death) and those of John Tagliabue (from a letter he wrote about Werner in 1982). Carl knew Werner as "alert to the world":
He embraced its humor and its pathos. He easily moved back and forth between the literature he especially loved and the world which he experienced . He often had genuine insights into human behavior, always looking for worldly confirmation of his own vision of the human condition, surely a western tragic one. He lived boldly and with integrity, often — if not always — struggling more deeply than we ever knew with the hand dealt to him.
And John says:
He is a person who has great respect for truth, for variety, for individuality — selective, critical, determined, discriminating, ardent; he is every day, every year, a genuine humanist in the great tradition of E.M. Forster. I have particularly admired his not ever becoming stale, his capacity for wonder, his increasing enjoyment of literature and the many arts, and the tenacity of his romanticism.
As with all romantics, it becomes impossible to separate the devotion to poetry, music, and art from the lived life. When I arrived in 1978, I had to learn how to interact with this man who characteristically treated my life with such high seriousness that it sometimes startled the breath. If one casually bemoaned a bad class or day or made some flippantly irreverent comment on the passing scene, Werner would commiserate in terms very much more sympathetic than one actually deserved.
As with all romantics, it becomes impossible to separate the devotion to poetry, music, and art from the lived life.
One felt as though in Werner, a pre-modern, perhaps Pre-Raphaelite, aesthetic lived on at Bates. Like other colleagues, I attended remarkable and luxurious evenings at La Casa Elena, the home of Werner and his wonderful partner Brad Daziel, where Werner at the piano would convince us that we sang Gershwin, Cole Porter, and sometimes even German lieder considerably better than we had once imagined. We sat in a room dripping with exotic greenery in winter and immense blooms in summer, where we ate and drank prodigiously and felt ourselves oddly more talented, more sensitive, more engaging than at other times.
If I mentioned a favorite baritone, he would return from Europe with a prized recording for me. If we shared a moment of enthusiasm for Blake or Yeats, he would type up his favorite passages for me almost immediately. And I was in no way alone here. This intensity of being would cause him personal trouble, especially later in life after a serious stroke ended his teaching career, but he knew how to kiss the moment as it flies, and how to tell stories that captured both the irony and the pity: like the one about finding himself at several cultural events in London seated near Stephen Spender and fearing that the poet would fear he had a stalker; or the one he liked about the drunken tenor in Lohengrin missing his cue in the form of a mechanized swan and saying in an aside to the audience, "What time is the next swan?"; or when as a poor scholarship student at Yale he admitted to his advisor that he couldn't afford all the texts, only to have the voice of privilege counsel: "Well, there comes a time when every young man has to dig into his capital."
But we should end with the testimony of his students, who throughout my time at Bates have routinely told stories about perceiving him as the quintessential "civilized man," one whose style, wit, and multiple, comparative frames of reference dazzled them.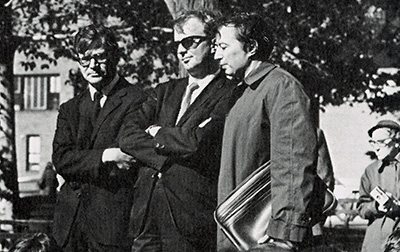 They describe how he would make detailed lists for those going to Europe of cultural places and events they must not miss; how his elegant end-of-the-year parties represented a significant mark on the social calendar; how his painstaking comments and recommendations stayed with them long after they graduated; how often his generosity came to their aid (in one case insisting on giving a coat to a student whose own looked woefully inadequate, a lined trench coat of course, what else from a man of impeccable taste); and how his personal attention inspired them, too, to commit themselves deeply to the traditions of the liberal arts.
His personal attention inspired them, too, to commit themselves deeply to the traditions of the liberal arts.
Once, Werner wrote on a paper of the now-poet Pamela Alexander '70: "This paper coruscates," sending her and her cohort to the dictionary to discover that it meant "to emit sparks of light." Another student, Daniel Johnson '70, describes how Werner's passionate, erudite mode of teaching also emitted sparks of light:
Dr. Deiman's ability to convey the essence of a writer had the overall effect of poetry or the mystic's vision. In one of my first college classes, he spoke at length about a Chekhov story called "The Student." Right from the start, Dr. Deiman helped me understand that there is such a thing as sacred time, as opposed to profane, every-day time. I will always remember his uncanny ability to teach Thomas Mann, or Herman Hesse, or Proust in such a detailed and heartfelt way that time seemed to stand still. There was something magnetic about the man.
And Valerie Smith '75, now a scholar of African American culture, a Woodrow Wilson Professor of Literature at Princeton, and a Bates Trustee, writes:
When I was a student at Bates in the 1970s, Werner Deiman's classes were among the most inspiring the English department offered. I recall taking his classes on Modern British literature and Romantic poetry. Both were hugely popular; majors and non-majors alike were drawn to his classes because of his legendary passion for both the aesthetic qualities of the texts he taught and the cultural context that produced them. Werner held his students to the highest standard, but he treated us with extraordinary graciousness and respect.
Finally, I am grateful to Sarah Potter '77 for sharing with me her syllabi and class notes, full of Deimanesque observations about writers who could also speak for Werner: of Blake, "When things went awry, he was like a child"; of Keats, "the wish to die is at the supreme height of Romantic joy"; and of Shelley's "Dirge," praise for the "monosyllabic power" of its onomatopoetic climax: "Wail, for the world's wrong!" And I'll end with two stanzas from the Walter de la Mare poem "Fare Well," that Sarah remembers he referred to in several of her classes and once passed out in the inimitably typed and corrected version that she kept:
When I lie where shades of darkness
Shall no more assail mine eyes,
Nor the rain make lamentation
When the wind sighs;
How will fare the world whose wonder
Was the very proof of me?
Memory fades, must the remember'd
Perishing be?

[Oh, when this my dust surrenders
Hand, foot, lip, to dust again,
May these loved and loving faces
Please other men!
May the rusting harvest hedgerow
Still the Traveller's Joy entwine,
And as happy children gather
Posies once mine.]

Look thy last on all things lovely,
Every hour. Let no night
Seal thy sense in deathly slumber
Till to delight
Thou have paid thy utmost blessing;
Since that all things thou wouldst praise
Beauty took from those who loved them
In other days.
Professor of English Carole Anne Taylor wrote and delivered this memorial minute for Professor Emeritus of English Werner J. Deiman, who died Feb. 5, 2009.
View Comments