Battleworks Dance Company plans world premiere at dance festival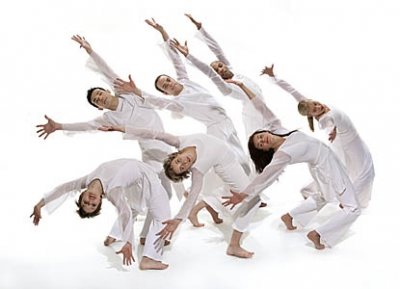 In its Maine debut, the Battleworks Dance Company appears at the Bates Dance Festival in the world premiere of a collaboration created with composer-percussionist Carl Landa. Performances take place at 8 p.m. Thursday and Saturday, July 16 and 18, in Bates College's Schaeffer Theatre, 305 College St.
Tickets are $20 for the general public and $12 for students and seniors and can be purchased by calling 207-786-6161 after July 6.
Another festival event takes place at 7:30 p.m. Tuesday, July 21. The panel discussion "Global Exchange: Sharing Across Cultures," featuring international choreographers exploring their work and the cultural environments in which they create it, is open to the public at no cost in the Olin Arts Center Concert Hall, 75 Russell St.
Led by Parsons Dance Company veteran Robert Battle, Battleworks is considered one of America's most promising and aesthetically daring ensembles. At Bates, the company's new work is an alloy of modern dance and African traditions. Also on the program are timeless and edgy dances from the Battleworks repertory.
The new piece builds upon Battle's 2004 piece "Juba," an athletic work, commissioned by Alvin Ailey American Dance Theater, that explores the ecstasy of dance. It springs from the community-oriented, improvisational nature of the African drumming circle, celebrating the power of that tradition to bring people of all cultures together.
Battle was a member of the Parsons company from 1994 to 2001 and began setting his own work on the company in 1998. Parsons performed his choreography across the United States and internationally, and featured it in several New York seasons.
As an independent choreographer, Battle has been commissioned by Hubbard Street Dance, Alvin Ailey American Dance Theater, River North Dance Company, Koresh Dance Company, the Introdans Ensemble and PARADIGM.
In 2001 Battle founded Battleworks Dance Company, and the company premiered in August 2002 at the World Dance Alliance's Global Assembly in Düsseldorf, Germany. The company was selected as the American representative to the festival thanks to its unique outlook on the future of dance.
Boldly pushing the boundaries that have traditionally defined modern dance, Battle takes his troupe of dancers into uncharted aesthetic realms. Battleworks has performed extensively in New York and across the country at such venues as The Joyce Theater, Dance Theater Workshop, American Dance Festival and the Jacob's Pillow Dance Festival.
In the words of a New York Sun reviewer, "Battle makes an audience sit up and take notice, marvel, even laugh. His work reaches over the edge of the stage and communicates with people."
In addition to mainstage performances, the Bates Dance Festival offers a selection of free and low-cost events. Additional information, including ticket prices and event locations, is available on the festival Web site: http://www.batesdancefestival.org/
View Comments