Jazz @ Olin series kicks off with piano-sax duo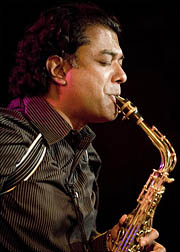 The Jazz @ the Olin Arts Center Series at Bates opens with pianist Vijay Iyer and saxophonist Rudresh Mahanthappa, a duo known as Raw Materials, in performance at 7:30 p.m. Thursday, Sept. 10, in the Olin Arts Center Concert Hall, 75 Russell St.
Available at www.batestickets.com, tickets are $12 for general admission and $6 for seniors and students. For more information, please contact 207-786-6135 or this olinarts@bates.edu. The concert hall is located at 75 Russell St.
Sons of Indian immigrants, Iyer and Mahanthappa are at the forefront of a generation of American jazz musicians exploring diverse cultural heritages through music. Respected soloists and frequent collaborators since 1996, the duo synthesizes Asian, African and European elements into a style that's simultaneously state-of-the-art, timeless and beyond category.
View Comments