Bishop Gene Robinson, NewsHour analyst Paul Solman to speak in Bates College appearances
Speakers presented at Bates by the Office of the Multifaith Chaplain will address topics on the front lines of the "culture wars" in October.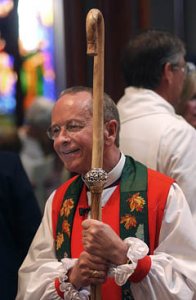 Paul Solman, an economics, business and occasional art correspondent to The NewsHour with Jim Lehrer, speaks at 7 p.m. Monday, Oct. 5, and 7 p.m. Wednesday, Oct. 7, in Chase Hall, 56 Campus Ave. He offers two lectures on a common theme, The Divided Self: Money, God and Neighbor. The Oct. 5 talk is titled Spending Beyond Our Means and Are We Screwed If We Don't? and the Oct. 7 talk, IS Money The Root of All Evil?
The Right Rev. V. Gene Robinson, bishop of the Episcopal Diocese of New Hampshire and the first openly gay, non-celibate bishop in a major Christian denomination, speaks at noon Thursday, Oct. 15, in the College Chapel, College Street. His talk is called Religion and Gay Marriage: Why They Matter So Much.
All three lectures are made possible by the Andrews Lectureship in Ethics and Education at Bates. For more information, please call 207-786-8272.
Solman has reported for NewsHour since 1985 and has won numerous Emmys and two Peabody Awards for his work. Founding editor of the alternative Boston weekly The Real Paper, he turned to business journalism as a Nieman Fellow, studying at Harvard Business School in 1976. He has been the business reporter at WGBH Boston since 1977, was named a member of TV Guide's Dream Team of TV reporters and was the co-originator and executive editor of PBS's business documentary series Enterprise.
As a member of the Harvard Business School faculty, Solman has taught media, finance and business history. With Thomas Friedman, he co-authored Life and Death on the Corporate Battlefield (Bookthrift, revised edition, 1987), which also appeared in Japanese and German editions. With sociologist Morrie Schwartz, he helped create (and wrote the introduction to) the book Morrie: In His Own Words (Walker & Company, 1999).
Solman has written for numerous publications including both Forbes and Mother Jones magazines. A one-time cab driver, kindergarten teacher and management consultant, he is also the presenter for and author of Discovering Economics with Paul Solman, a series of videos distributed by McGraw-Hill to accompany the company's introductory economics textbooks.
V. Gene Robinson became bishop of the Episcopal Diocese of New Hampshire in 2003.
He has been active particularly in advocating for full civil rights for gay, lesbian, bisexual and transgendered people. Working at the state, national and international levels, he has lobbied for equal protection under the law and full civil marriage rights. He has been honored by many LGBT organizations for this work, including The Human Rights Campaign, the National Gay and Lesbian Task Force and the Equality Forum.
Robinson has done AIDS educational work in the United States and in Uganda and South Africa. He has been an advocate for anti-racism training in the diocese and wider church. He helped build the Diocese of New Hampshire's close working partnership with the New Hampshire Community Loan Fund, advocated for debt relief for the world's most impoverished nations and lobbied for socially responsible investment within and beyond the church.
Robinson's story is featured in the 2007 feature-length documentary film, For the Bible Tells Me So. He is the author of In the Eye of the Storm: Swept to the Center by God (Seabury Books, 2008).
Robinson was invited by Barack Obama to give the invocation at the opening presidential inauguration ceremonies at the Lincoln Memorial on Jan. 18, 2009.
The Andrews Lecture, a signature talk at Bates since 1975, commemorates Bertha May Bell Andrews. A faculty member from 1913 to 1917, she established the college's women's physical education program. Her son, Dr. Carl B. Andrews, class of 1940, established the annual lectureship.
View Comments