Bates to host Maine political forums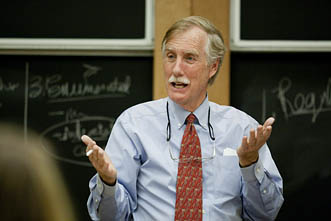 This winter, in collaboration with the Androscoggin Valley Regional Program for the Gifted and Talented, Bates College hosts three presentations related to the 2010 election for Maine governor.
Former Maine Gov. Angus King opens the series with a discussion of his first Blaine House race at noon Tuesday, Dec. 8, in Chase Hall Lounge, 56 Campus Ave. King will also discuss his legacy as governor, including the Maine public school laptop program that provides every public middle-school student with an Apple laptop.
King ran as an independent for governor in 1994 and was re-elected in 1998. Building his platform on bipartisanship, King won re-election by a substantial margin. He currently serves as the Segal Lecturer in American Politics at Bates.
Two candidates for the 2010 Blaine House race continue the series: American Skiing Company founder Les Otten on Feb 10 and former Maine legislator and state Attorney General G. Steven Rowe on March 3.
Sponsored by the college's Harward Center for Community Partnerships, all of the series events are open to the public at no cost. For more information, please call 207-786-6400.
Republican gubernatorial candidate Otten speaks at 9 a.m. Wednesday, Feb. 10, in the Edmund S. Muskie Archives at Bates, 70 Campus Ave. After leaving American Skiing Company, Otten worked as vice chairman and minority partner for the Boston Red Sox baseball franchise. In June 2009, he announced the formation of an exploratory committee to consider a bid for governor.
Democratic candidate Rowe speaks at 9 a.m. Wednesday, March 3, in Chase Hall Lounge, 56 Campus Ave. As attorney general, Rowe tackled such major issues as lowering prescription drug costs, domestic violence, sexual assault, substance abuse and elder financial exploitation. He helped reform mortgage lending practices by taking on predatory lenders and by advocating for tougher consumer protection laws.
His leadership positions in the Legislature included chairing committees on economic development, research and development, and natural resources, and he was elected by his colleagues to serve as speaker of the House in his final term. He supported higher education by leading the passage of a $26 million capital improvement bond to improve Maine's community colleges, promoted public health by leading the creation of the Fund for a Healthy Maine and led the passage of a $50 million Land for Maine's Future bond issue.
The Androscoggin Valley Regional Program for the Gifted and Talented was developed in the 1980s in response to the needs of gifted and talented high school students who may benefit from differentiated programming. The program is a cooperative endeavor among school systems in the Androscoggin Valley Education Collaborative, comprising Lewiston, Auburn, SAD 52, school unions 29, 30 and 44, and Bates College.
View Comments