'Moonlight' to shine in Friday's installment of Beethoven piano sonatas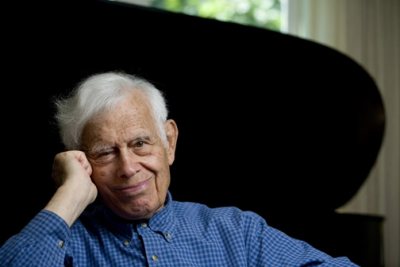 Ludwig van Beethoven's beloved "Moonlight" sonata is on the program as Frank Glazer, dean of Maine pianists, performs the third concert in his season-long review of the complete Beethoven piano sonatas at 7:30 p.m. Friday, Nov. 6, in the Olin Arts Center Concert Hall at Bates, 75 Russell St.
Also this weekend, the 94-year-old Glazer discusses his approach to and preparation for the Beethoven sonatas at 3 p.m. Sunday, Nov. 8, in the Olin auditorium. A reception follows. The event is sponsored by the Bates College Friends of Music.
All performances in the sonata series, as well as the lecture, are open to the public at no cost, but tickets are required. For more information contact 207-786-6135 or this olinarts@bates.edu.
Glazer is performing the sonatas in chronological order. Friday's program comprises the Op. 14, 22, 26 and 27 sonatas, the last set including the popular "Moonlight" sonata.
His series coincides with a parallel effort by the Auryn Quartet, which resumes its performances of the Beethoven string quartet cycle at Bates in January, presented by the Bates Concerts Committee.
Asked about the characteristics of Beethoven's music that particularly strike him, Glazer points to the composer's imagination — one so fertile that he scarcely needed to reuse an idea.
It was this capacity that enabled the composer to, as Glazer puts it, "modulate to any key from anywhere." More broadly, Beethoven had "the ability to extend a simple idea and have it continue and evolve. He also had such a sense of proportion that, at the point when you are just about to become bored, he changes — he knows just where to change so that you're always alert to what he's doing.
"Frank Lloyd Wright once told me that Beethoven was his favorite composer because he was a great constructer."
The subsequent installments, all in the Olin Arts Center Concert Hall, take place at:
3 p.m. Sunday, Dec. 6, with the Op. 28 and the three Op. 31 sonatas;
3 p.m. Sunday, Jan. 17, with the Op. 49, 53, 54 and 57 ("Appassionata") sonatas;
7:30 p.m. Sunday, Feb. 7, with the Op. 78, 79, 81A and 90 sonatas;
7:30 p.m. Friday, March 19, with Op. 101 and 106 ("Hammerklavier");
and, finally, at 7:30 p.m. Friday, April 9, with the Op. 109, 110 and 111 sonatas.
Glazer has taught at Bates since 1980, coming from a faculty position at the Eastman School. "This being my 30th year at Bates, I thought it would be a good idea for me to do all the sonatas," he says. In a professional career spanning more than 70 years, "I have played all of them but four."
Glazer, of Topsham, has had a distinguished career that includes numerous recordings, solo recitals and performances with orchestras and chamber ensembles, including the New England Piano Quartette, of which he was a founder. With his wife, the late Ruth Glazer, he founded the Saco River Music Festival, held for many years in Cornish, Maine.
In October 2006, Glazer celebrated the 70th anniversary of his 1936 New York City debut by performing that debut program at Bates. Last March, he reprised the program that he played in his Carnegie Hall debut, 60 years ago to the day.
View Comments